Here's a wholesome and delicious meal you can make in one pot! Lentils are high in protein and low in fat and sodium making for an extra special, healthy treat. Just toss the ingredients into your slow cooker and you'll be ready to get your nom on in no time.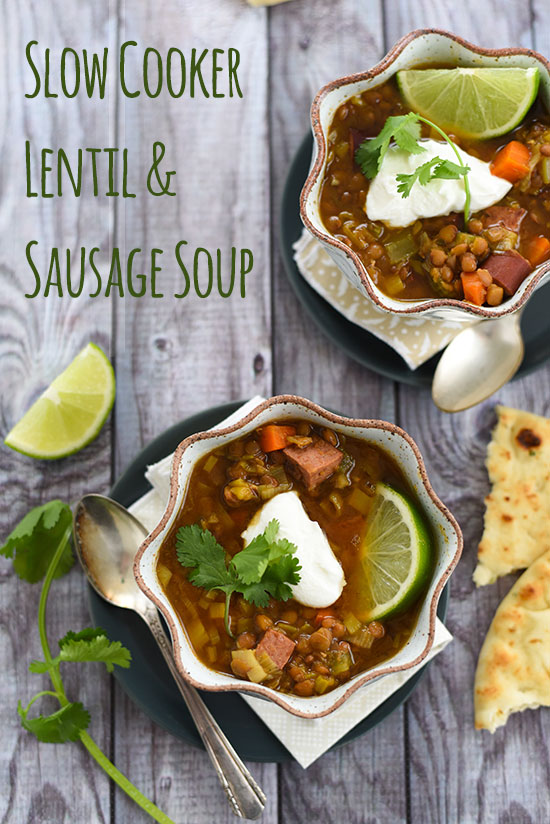 Serves: 6
Prep Time: 20 minutes
Slow Cook Time: 8 hours
Ingredients:
2 celery stalks, chopped
2 garlic cloves, minced
2 medium carrots, chopped
1 medium leek (white and light green part only), thinly sliced
8 ounces smoked turkey sausage, cut into 1/2-inch pieces
3/4 cup brown lentils, rinsed and picked through
1/2 cup green lentils, rinsed and picked through
2 tablespoons tomato paste
1 teaspoon curry powder
1 teaspoon fresh thyme leaves
1/2 teaspoon ground cumin
1/2 teaspoon kosher salt
1/4 teaspoon ground black pepper
6 cups less-sodium chicken broth
3/4 cup Greek yogurt
Fresh cilantro
1 lime, cut into eighths
Naan bread, for serving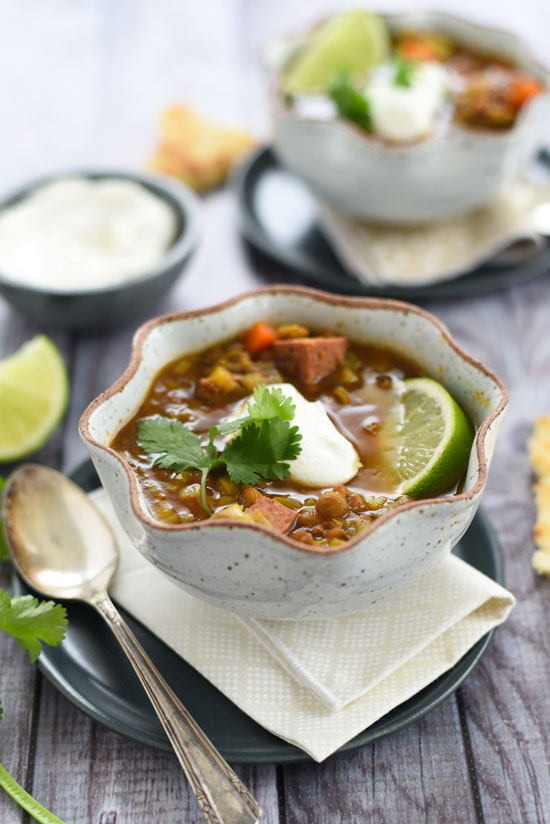 Directions:
1. In bowl of slow cooker, stir celery, garlic, carrots, leek, sausage, lentils, tomato paste, curry powder, thyme, cumin, salt and pepper until well combined. Stir in broth. Cover and cook on low 8 hours (or on high 4 hours) or until lentils are tender.
2. To serve, divide soup between bowls and top with yogurt and cilantro. Serve with lime wedges and naan.
In a time crunch? Check out our other one-pot meals!
Get more healthy ideas and delicious snacks by joining NatureBox. Sign up today to kick off your membership with a free trial!
Lori Yates is a Detroit-area food writer and recipe developer. She is the author of Foxes Love Lemons, where she posts special yet simple original recipes, tips from her culinary school adventures and restaurant reviews. Her mission is to encourage people to enjoy the act of cooking at home. You can follow her on Facebook and Twitter @foxeslovelemons.