This kale-filled pasta dish is inspired by the classic spaghetti aglio e olio, Italian for "spaghetti with garlic and oil". Garlic and red pepper flakes are infused into olive oil, along with olive tapenade, kale and smoky NatureBox Lone Star Snack Mix Farfalle pasta fills out the rest of the dish, making for a hearty vegetarian meal.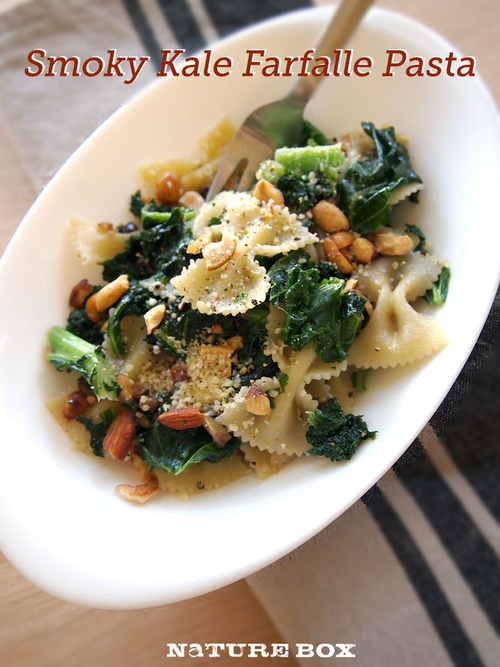 Serves: 2
Prep time: 10 minutes
Cook time: 20 minutes
Ingredients:
1 cup dried farfalle
4 cups kale, cut into 1 inch chunks
2 tablespoons olive oil
2 cloves garlic, sliced thinly
1 pinch red pepper flakes (optional)
2 tablespoons NatureBox Lone Star Snack Mix, lightly crushed
1 teaspoon olive tapenade
Kosher salt
Freshly ground black pepper
Directions:
1. In a small pot over high heat, boil water for the pasta. Salt liberally. Add the pasta and cook till al dente. Turn off the heat, add the kale to the pot and stir until the greens slightly wilt, about 10 seconds.
2. Drain the pasta and kale, reserving 1/4 cup of the pasta water for the sauce.
3. In a saucepan over medium heat, slowly heat the oil along with the garlic and red pepper flakes till the garlic is fragrant and slightly golden brown, around 4 minutes. Add the crushed nuts and tapenade, stirring quickly. Once the mixture is heated through, toss in the pasta and kale.
4. Add salt and pepper to taste. If the pasta seems dry, add the reserved pasta water a tablespoon at a time until the desired consistency. Serve immediately and enjoy!
Get more healthy ideas and delicious snacks by joining NatureBox. Enter coupon code NATURE for 25% off your first month subscription!
A devout student of flavor, Tsz documents her food adventures at Gastrophoria. In the rare moments she's not planning her next meal, she grows businesses through unique design solutions