Looking for a heart-healthy, filling snack or quick side dish? Look no further than these avocado crostinis!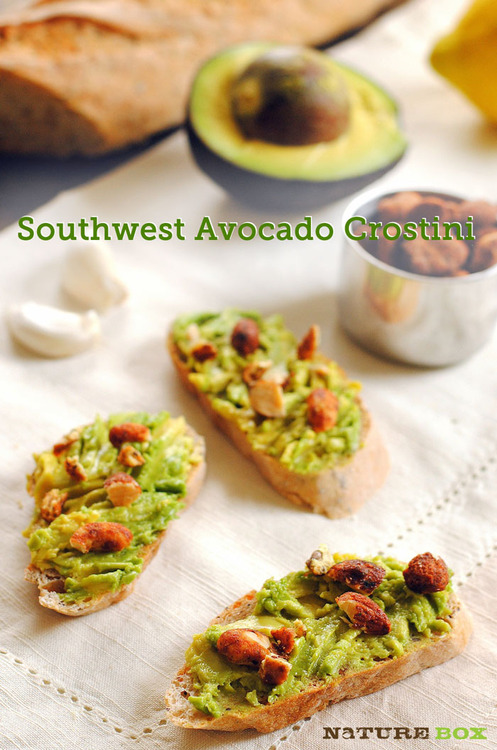 Makes: 12 crostinis
Prep time: 10 minutes
Cook time: 2 minutes
Ingredients:
1/2 whole wheat baguette, sliced diagonally ¼-inch-thick (about 12 pieces)
2tablespoons olive oil
1garlic clove, peeled
1ripe avocado, peeled and pitted
1/3cup Naturebox Salsa Spiced Nut Mix, roughly chopped
1/2 lemon
Directions:
1. Preheat outdoor grill or grill pan for direct grilling over medium heat. Brush both sides of baguette pieces with oil. Grill 30 seconds to 1 minute per side or until lightly browned. Immediately after bread comes off grill, rub 1 side with garlic clove.
2.Scoop about 1 tablespoon avocado flesh onto each crostini; mash and spread with fork.
3. Sprinkle crostini with Salsa Spiced Nut Mix and squeeze lemon juice over crostini. Serve immediately.
Still hungry? Try these tasty avocado recipes!
Get more healthy ideas and delicious snacks by joining NatureBox. Enter coupon code NATURE for 25% off your first month subscription!
Lori is a Detroit-area food writer, recipe developer and restaurant reviewer. She's usually found in the kitchen cooking up something that undoubtedly involves beets, lemons or coconut for her blog, Foxes Love Lemons. Check out more of her recipes here.