Looking to liven up the usual salad routine? Save time on chopping lettuce by serving up the Romaine wedge-style! To add some protein and substance, we added a few slices of turkey bacon and NatureBox Cheddar and Onion Sunflower Kernels. This salad is then topped with a green chile Greek yogurt dressing for a zesty, creamy kick.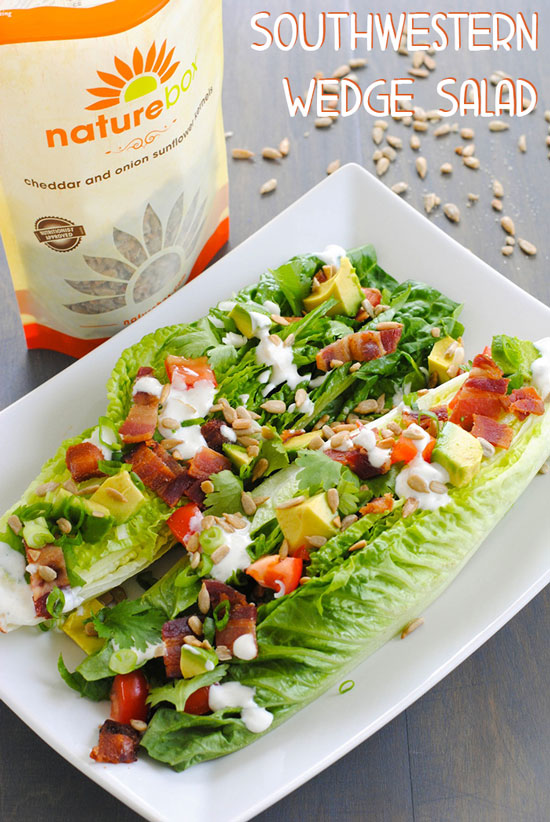 Serves: 4
Prep time: 15 minutes
Ingredients:
For the Green Chile Yogurt Dressing:
Juice of 1 lime
3/4 cup Greek yogurt
2 tablespoons canned diced green chiles, drained
1/4 teaspoon cumin
Pinch of kosher salt and ground black pepper
For the Southwestern Wedge Salads:
2 heads of Romaine lettuce, halved lengthwise
4 green onions, thinly sliced
4 slices turkey bacon, cooked and crumbled
1 avocado, peeled and diced
1 medium tomato, chopped
1/4 cup chopped fresh cilantro
Directions:
1. Make the Green Chile Yogurt Dressing: In small bowl, whisk together lime juice, yogurt, chiles, cumin, salt and pepper.
2. Make the Southwestern Wedge Salads: Arrange lettuce heads on large platter or individual salad plates. Top with onions, bacon, avocado, tomato, cilantro and sunflower kernels. Serve with Green Chile Yogurt Dressing.
Looking to have the ultimate foodie summer day? Check out these Grilled Banana Boats with Peanut Butter and Chocolate Quinoa Granola!
Get more healthy ideas and delicious snacks by joining NatureBox. Sign up today to get $10 off your first box!