After all the indulgent barbecues this past weekend, you may be craving a lighter, cleaner but still-filling meal. Cook up these cork kernels, lima beans and jalapeno for a delightful succotash. Pair it with a sinfully spicy shrimp skewer!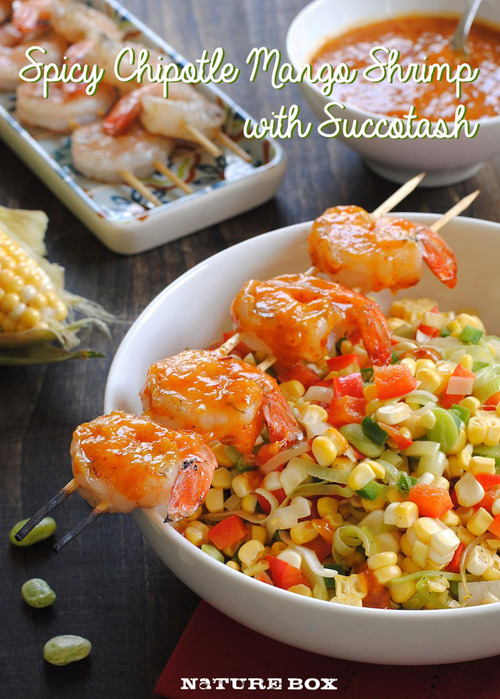 Serves: 4
Prep Time: 20 minutes
Cook Time: 15 minutes
Ingredients:
8 (10-inch) bamboo skewers
1 ripe mango, peeled, pitted and roughly chopped
1 chipotle in adobo sauce, plus 1 tablespoon adobo sauce
1 tablespoon water
4 ears fresh corn, husks and silks removed
2 tablespoons olive oil, divided
1 leek, cut lengthwise in half, then thinly sliced crosswise
1/2 teaspoon kosher salt
1/4 teaspoon ground black pepper
1 jalapeño pepper, seeded and minced
1 red bell pepper, finely chopped
1/2 cup fresh or frozen lima beans
16 large (16-20 count) peeled and deveined shrimp
Directions:
1. Place skewers in large dish and cover with water. Let stand 15 minutes. Meanwhile, in food processor, pulse mango, chipotle and adobo sauce, and water until smooth.
2. Prepare grill for direct grilling over medium-high heat. Cut corn from cobs. Using back of knife, scrape cobs to release corn "milk," and reserve along with kernels. In large skillet, heat 1 tablespoon oil over medium-high heat. Add leek, salt and pepper; cook 2 minutes, stirring frequently. Add jalapeño and red pepper; cook 2 minutes, stirring occasionally. Stir in lima beans, corn and corn milk. Cook until all vegetables are tender-crisp, about 3 to 4 minutes. Remove from heat and cover to keep warm.
3. Double-skewer shrimp, placing 4 shrimp on each set of skewers. Brush shrimp with remaining 1 tablespoon oil. Place shrimp skewers on hot grill rack, and cook until shrimp turn opaque throughout and internal temperature reaches 145 degrees F, turning once, about 5 to 6 minutes. Remove from grill and brush with mango-chipotle sauce. Serve immediately over succotash.
Get more healthy ideas and delicious snacks by joining NatureBox. Enter coupon code NATURE for 25% off your first month subscription!
Lori is a Detroit-area food writer, recipe developer and restaurant reviewer. She's usually found in the kitchen cooking up something that undoubtedly involves beets, lemons or coconut for her blog, Foxes Love Lemons. Check out more of her recipes here.