Brighten up your spring with this fresh Veggie Platter! Grilled spring veggies, NatureBox snacks and a creamy basil dip is the perfect appetizer for your next outdoor BBQ.
Serves: 4
Prep Time: 20 minutes
Cook Time: 8 minutes
Ingredients:
Olive oil nonstick cooking spray
8 asparagus spears
4 small carrots, halved lengthwise
1/2 bunch green onions
4 thin slices prosciutto, halved crosswise
Juice of 1/2 lemon
3/4 cup fresh green peas
2 tablespoons Greek yogurt
2 tablespoons shredded Parmesan cheese
2 teaspoons chopped fresh basil
Pinch of salt and ground black pepper
4 ounces cheese, cubed (we used Asiago)
NatureBox Garlic Plantains, Asiago & Cheddar Cheese Crisps, and Salt & Pepper Pistachios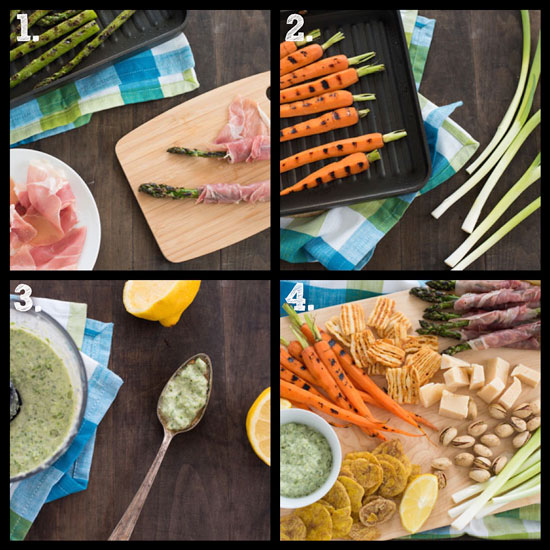 Directions:
1. Preheat grill pan or outdoor grill for direct grilling over medium-high heat. In batches if necessary, lightly spray grill with cooking spray and grill asparagus and carrots 6 to 8 minutes or until tender crisp. Green onions may also be grilled, if desired, or served raw. Let asparagus cool slightly, then wrap prosciutto around asparagus.
2. Meanwhile, in mini food processor, process lemon juice, peas, yogurt, Parmesan cheese, basil, salt and pepper until smooth.
3. Build platter using prosciutto-wrapped asparagus, carrots, green onions, pea puree, cheese, and NatureBox snacks.
In a time crunch? Check out our other 3-step recipes!
Get more healthy ideas and delicious snacks. Discover over 100 snacks made with high-quality, simple ingredients at NatureBox!
Lori Yates is a Detroit-area food writer and recipe developer. She is the author of Foxes Love Lemons, where she posts special yet simple original recipes, tips from her culinary school adventures and restaurant reviews. Her mission is to encourage people to enjoy the act of cooking at home. You can follow her on Facebook and Twitter @foxeslovelemons.