Plain cashews added to fried rice is always a delightfully crunchy treat. But next time, add Sriracha Roasted Cashews to the mix along with your favorite veggies and edamame beans.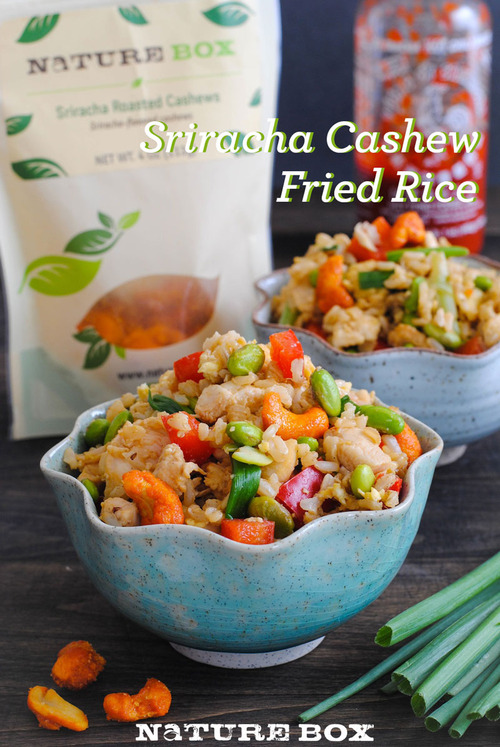 Serves: 4
Prep time: 15 minutes
Cook time: 15 minutes
Ingredients:
1 tablespoon vegetable oil
2 small chicken breasts, cut into 1/2-inch pieces
1 red bell pepper, diced
6 green onions, cut into 2-inch pieces
3/4 cup shelled edamame beans
2 cups cooked and chilled brown rice
2 eggs
2 tablespoons low-sodium soy sauce
1 teaspoon ground white pepper
Directions:
1. In wok or large skillet, heat oil over medium-high heat. Add chicken; cook until almost cooked through, stirring frequently, about 5 minutes.
2. Add red pepper; cook 1 minute, stirring frequently. Add onions and edamame; cook 1 minute, stirring frequently.
3. Add rice; cook 3 minutes, stirring constantly. Push rice to sides of wok, creating a well in center of wok. Crack eggs into well, scramble vigorously with spoon; cook 2 minutes (keeping eggs in well) or until eggs are full cooked.
4. Add cashews, soy sauce and white pepper; toss until all ingredients are well combined.
Pics or it didn't happen! When you whip up this recipe, post it on Instagram or Facebook with the hashtag #natureboxrecipe so we can like and reshare it!
Get more healthy ideas and delicious snacks by joining NatureBox. Sign up today to get 50% off your first box!