Did you know that cashews come from a cashew tree and are grown in the tropics? Who knew?
We wanted to create a tropical twist on this popular snack, so we sprinkled freshly roasted cashews with chewy coconut flakes in our beloved Coconut Cashews. Get the taste of an island getaway in one delightful bite. So simple, yet deliciously satisfying.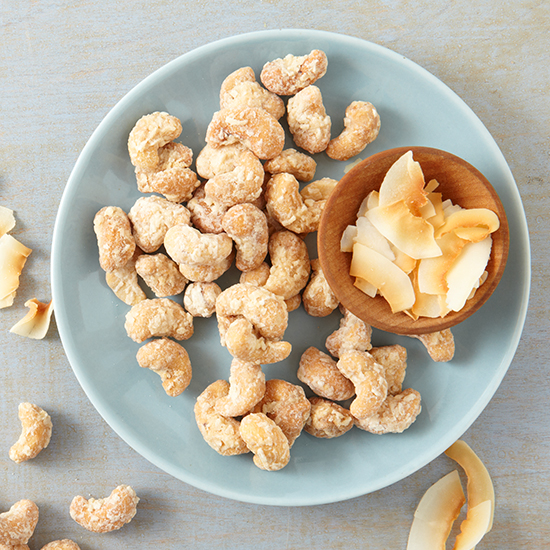 Coconut Cashews are bit of a cult favorite around the NatureBox office. We tapped a few of our die-hard Coconut Cashew fans to tell us why this is their snack of choice and share their favorite ways to enjoy them. Here's what they had to say:
The Mix Master
"Coconut Cashews and Big Island Pineapples are a match made in snack heaven." – Kathryn, VP Product Development
The Chef
"I make Coconut Cashew chicken. So. Damn. Good." – Ray, CMO
The Traveler
"Crushed and mixed into Pad Thai or Chicken Lettuce wraps add the right amount of sweetness to these savory dishes. It's like an island vacation every time I open the bag." – Michael G., Inventory Planning Analyst
How do you enjoy our Coconut Cashews? Sound off in the comments below!
Not yet a NatureBox member? What are you waiting for! Choose from over 100 deliciously wholesome snacks, including our Coconut Cashews, by joining NatureBox. Sign up today and get your first box on us!