Take a break from the summer heat with this light and delicious salad. With summer berries, goat cheese, and the perfect crunch from our Sweet & Simple Berry Nut Mix, this is one treat you don't want to miss out on.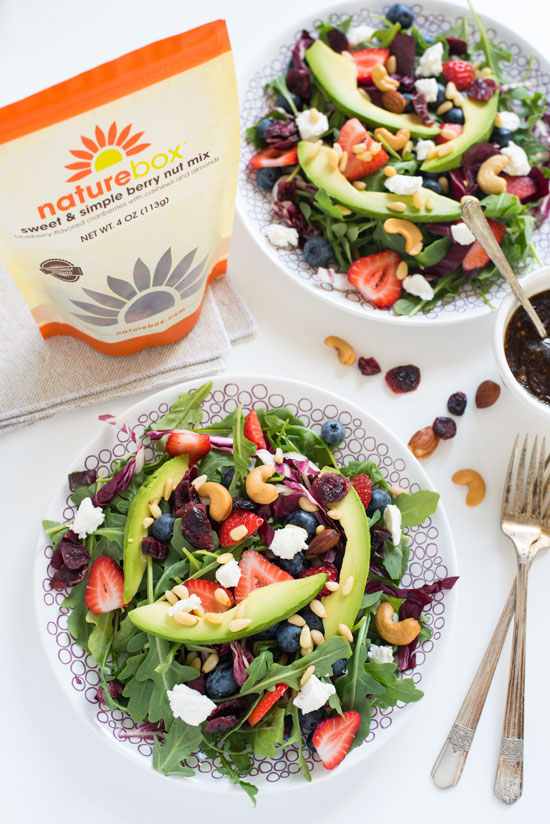 Serves: 4
Prep Time: 15 minutes
Ingredients:
2 tablespoons balsamic vinegar
1 tablespoon honey
1 tablespoon whole grain mustard
1/4 cup extra virgin olive oil
1 head radicchio, chopped
4 cups arugula
1 avocado, peeled, pitted and sliced
4 ounces goat cheese, crumbled
1 cup strawberries, sliced
2/3 cup blueberries
1/2 cup NatureBox Sweet & Simple Berry Nut Mix
2 tablespoons pine nuts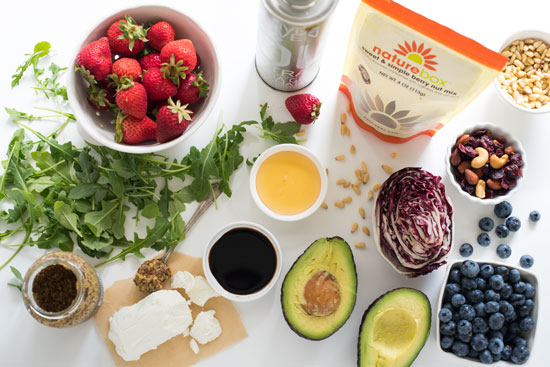 Directions:
1. In small bowl, whisk together vinegar, honey and mustard. While whisking, slowly drizzle in oil until all oil is incorporated.
2. Divide radicchio and arugula between 4 plates. Top with avocado, cheese, strawberries, blueberries, Sweet & Simple Berry Nut Mix and pine nuts. Serve immediately with vinaigrette.
In a time crunch? Check out our 3-step recipes!
Choose from over 100 deliciously wholesome snacks by joining NatureBox. Sign up at naturebox.com and receive your first box on us!
Lori Yates is a Detroit-area food writer and recipe developer. She is the author of Foxes Love Lemons, where she posts special yet simple original recipes, tips from her culinary school adventures and restaurant reviews. Her mission is to encourage people to enjoy the act of cooking at home. You can follow her on Facebook and Twitter @foxeslovelemons.