Staying in the Healthy Routine
by NatureBox Nutritionist Kat Brown, MS RD RYT
Summertime is fun and exciting for families with vacations, outdoor activities and camps planned. And while these activities are wonderful, they can lead to a disruption in the routine, which can be unsettling for eating habits. Here are some tips for staying in the healthy eating swing of things during your summer playtime.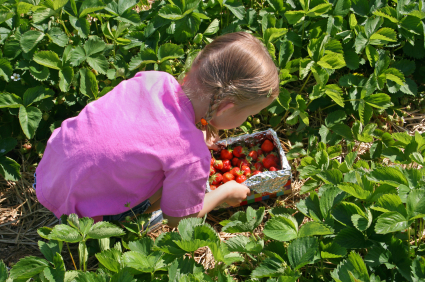 Prioritize Family Meals and Sit Down Snacks
With less daytime structure, kids (and adults!) can feel a little lost. Family meal times and sit-down snacks can be an anchor during the day, and add some routine into the schedule. Kids who have family meals eat a wider variety of foods and grow into the body weight that is right for them, do better in school and feel better about themselves. Plan meals at roughly the same time each day, and snacks mid-way between so that everyone can be evenly fueled throughout the day for all of that summer fun.
Kitchen Brigade!
With fewer homework assignments in the evenings, kids can get in the kitchen and lend a hand, which can lead to healthier eating and being more willing to try new foods. Involve kids in the entire meal process from shopping to storage, planning and preparation. Make it enjoyable bonding time and keep it simple- give kids a task like gathering ingredients for a recipe or washing produce.
Outdoor Fun
See summer as an opportunity to regularly include family physical activity- movement is good for everyone. Think outdoor fun-sprinkler sprints, volleyball or badminton, frisbee or mini golf.  Or, find an orchard or pick-your-own produce grower in your area to get outside and enjoy the amazing fresh fruits and veggies that are ripe for the picking this time of year.
Staying in the healthy eating routine can be a challenge in the summer, but with a little preparation and creativity, you and your family will reap the rewards of well-nourished bodies to squeeze every drop of joy out of those endless summer days.
For more information on feeding healthy families (in the summertime or anytime!), check out the Academy of Nutrition and Dietetics' kids website. 
Kat Brown MS RD RYT is a San Francisco Bay Area based Registered Dietitian and Yoga Teacher. As a nutrition counselor, writer, cook, and yogini she seeks to inspire others to nourish themselves and live balanced, fulfilled lives. 
Get more healthy ideas and delicious snacks by joining NatureBox. Enter coupon code NATURE for 25% off your first month subscription!