It's officially picnic season! Here's a few of my favorite tips to put together an easy lunch to take along anywhere.
When we picnic, we keep it simple. Food that doesn't require utensils or lots of extra stuff to pack is always a great idea. Making sandwiches ahead of time is easier than packing a lot of sandwich makings to bring along (and then have to pack up again to take back home).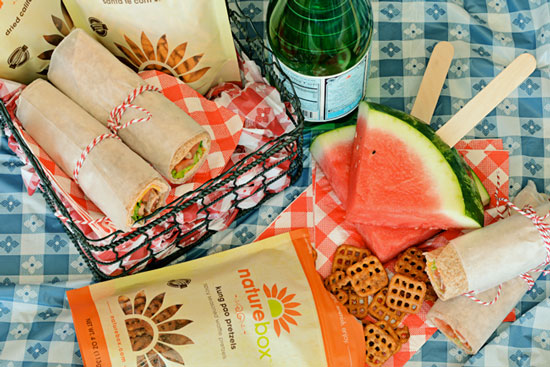 NatureBox also has lots of goodies that are perfect for every picnicker's palette. Bringing a special snack for everyone is always a nice touch. Some of our favorite snacks that are perfect for picnics include Southern BBQ Sunflower Kernels, Kung Pao Pretzels, and Dried California Peaches.
And to keep hands mess free, I use a craft stick into the rind of the watermelon pieces to make them easy to handle. It's much easier to eat!
Happy Picnic Season!
Looking for delicious and fun ideas for the kids? Check out our lunch box ideas!
Get more healthy ideas and delicious snacks by joining NatureBox. Sign up today to kick off your membership with a free trial!
Kristi Dominguez is a former event planner and part-time graphic designer. She blogs at IShouldBeMoppingTheFloor.com where she tackles projects to turn her cookie-cutter home into something more exciting. A lot more exciting.