You know that bottle of fancy extra virgin olive oil you save for special occasions? Here's your special occasion. This recipe is fresh, clean and simple – with minimal ingredients. And so, high quality ingredients is ideal.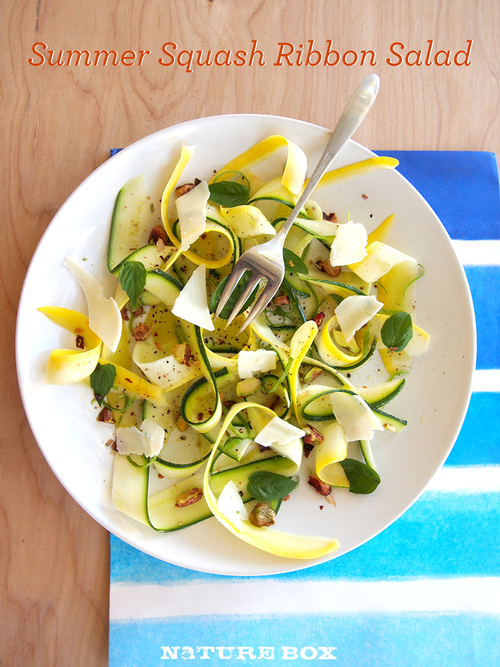 Serves: 2
Prep time: 15 minutes
Ingredients:
20 NatureBox Lemon Pucker Pistachios, lightly crushed
1 yellow summer squash
1 zucchini
1/2 teaspoon lime zest
1 lime
Small bunch of fresh basil
2 tablespoons shaved Parmesan
3 tablesppons extra virgin olive oil (the good stuff, if you have it!)
Sea salt (preferably smoked sea salt)
Freshly ground black pepper
Directions:
1. With a vegetable peeler, shave the squash and zucchini into long ribbons.
2. Toss with 2 tablespoons olive oil, lime zest, lime juice and salt to taste.
3. Divide between 2 plates and drizzle with the rest of the oil. Pepper to taste and arrange Parmesan, basil leaves and pistachios over. Admire your handiwork and enjoy!
Get more healthy ideas and delicious snacks by joining NatureBox. Enter coupon code NATURE for 25% off your first month subscription!
A devout student of flavor, Tsz documents her food adventures at Gastrophoria. In the rare moments she's not planning her next meal, she grows businesses through unique design solutions.