You probably already have all the ingredients for these beautiful mini crepes in your pantry!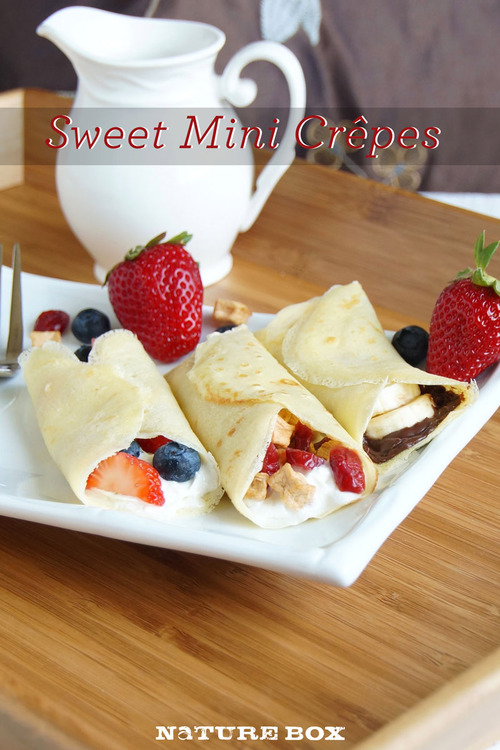 Makes: 12 crepes
Prep Time: 15 minutes
Cook Time: 10 minutes
Ingredients:
1-1/2 cups milk
2 eggs
1 cup all-purpose flour
1/4 teaspoon kosher salt
1 teaspoon melted unsalted butter
Cooking spray
NatureBox Tart & Tangy Fruit Medley (for the filling)
Cocoa almond butter spread (optional, for filling)
Directions:
1. In a mixing bowl, whisk together the milk and eggs until frothy. Slowly add the flour while continuing to mix the batter at the same time. Add the salt and melted butter and mix well. Set aside and chill in the refrigerator for 10 minutes.
2. Heat a small skillet over medium heat and grease with cooking spray. Pour a small amount of batter (about the size of a baseball) into the skillet.
3. Immediately lift the skillet off of the stove and rotate your wrist so the batter forms a circle in the pan, repeating until it stops moving around in the circle.
4. Cook each side for about 2 minutes, until golden brown spots start to form. Fill with your favorite filling, such as fresh fruit, NatureBox Tart & Tangy Fruit Medley, whipped cream, and cocoa almond butter spread.
Got a sweet tooth? Try our other sweet treat recipes!
Get more healthy ideas and delicious snacks by joining NatureBox. Enter coupon code NATURE for 25% off your first month subscription!
Kristianne is the founder of My San Francisco Kitchen, where she shares everyday recipes that focus on cooking/baking from scratch.