Looking for a way to spice up your dip? Try this Sweet 'n Spicy Black Bean Dip! This is a perfect appetizer for a party or to eat as a light lunch. Serve with NatureBox Garlic Plantains to get the perfect crunch.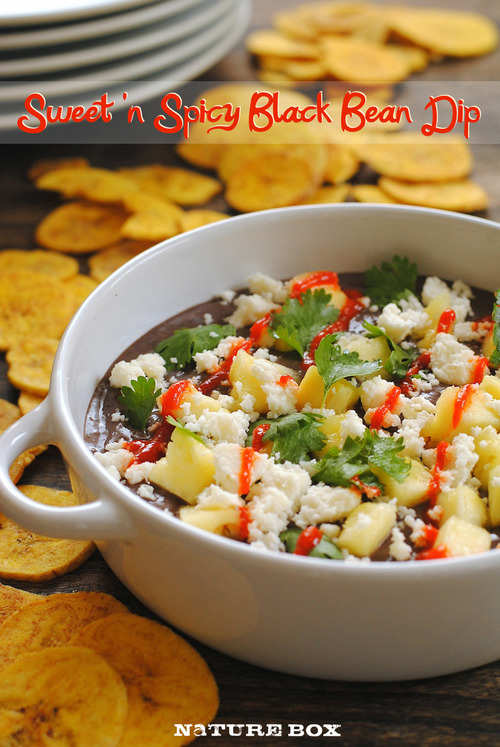 Makes: 1-1/2 cups dip
Prep time: 10 minutes
Ingredients:
1 can (15.25 ounces) black beans
1 small clove garlic
2 tablespoons Greek yogurt
1/2 teaspoon ground cumin
1/4 teaspoon chili powder
1/8 teaspoon cayenne pepper
1 cup chopped pineapple
1/4 cup chopped fresh cilantro
1/4 cup crumbled queso fresco
2 tablespoons sriracha or other hot sauce (optional)
Directions:
1. In food processor, pulse beans, garlic, yogurt, cumin, chili powder and cayenne until smooth.
2. Transfer to serving dish; top with pineapple, cilantro, queso fresco and hot sauce, if desired.
3. Serve with Garlic Plantains for dipping.
Still hungry? Whip up our other yummy and wholesome dips!
Get more healthy ideas and delicious snacks by joining NatureBox. Enter coupon code NATURE for 25% off your first month subscription!
Lori is a Detroit-area food writer, recipe developer and restaurant reviewer. She's usually found in the kitchen cooking up something that undoubtedly involves beets, lemons or coconut for her blog, Foxes Love Lemons. Check out more of her recipes here.