A homemade hash is my favorite way to have breakfast, or sometimes even dinner. You can throw in all sorts of lingering veggies and top it off with a runny yolk, giving you the ultimate breakfast of champions. My absolute favorite is a sweet potato mixture with soy chorizo, corn, beans, and fresh avocado!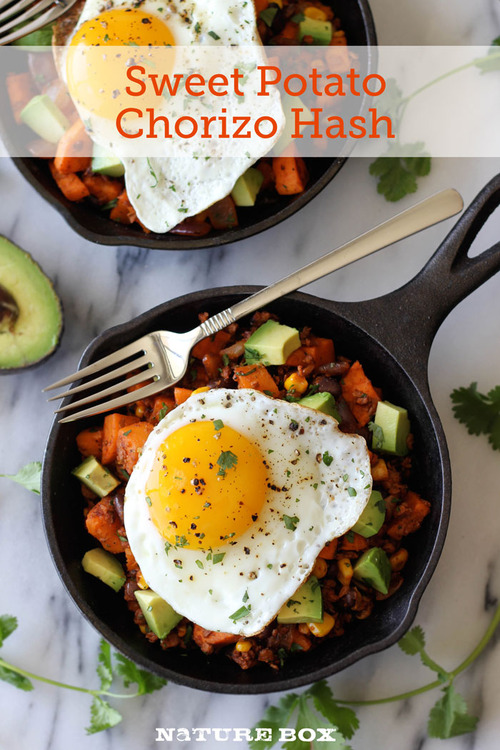 Serves: 4
Prep time: 10 minutes
Cook time: 20 minutes
Ingredients:
6 ounces Mexican soy chorizo, casing removed
2 cloves garlic, minced
4 sweet potatoes, peeled and diced
1 red onion, diced
1 cup corn kernels
1 cup canned black beans, drained and rinsed
2 tablespoons chopped fresh cilantro leaves
Kosher salt
Freshly ground black pepper
1 avocado, diced
4 fried eggs, for serving
Directions:
1. Heat olive oil in a large skillet over medium high heat. Add chorizo and cook until dry and crisp, about 2 minutes, making sure to crumble the chorizo as it cooks. Transfer to a plate.
2. Add garlic and sweet potatoes to the skillet and cook, stirring occasionally, until potatoes begin to soften about 5-7 minutes. Add red onion and cook, stirring occasionally, until onions become translucent, about 3-4 minutes. Stir in corn, beans and cilantro until heated through, about 1-2 minutes. Season with salt and pepper, to taste. Remove from heat and stir in avocado.
3. Top with a fried egg and serve immediately.
Still hungry? Try our other breakfast recipes!
Pics or it didn't happen! When you whip up this recipe, post it on Instagram or Facebook with the hashtag #natureboxrecipe so we can like and reshare it!
Get more healthy ideas and delicious snacks by joining NatureBox. Sign up today to get 50% off your first box!