by Chung-Ah Rhee for NatureBox
I had a big bag of leftover kale sitting in the fridge, so I threw some ingredients together to make this frittata. With that kale, along with caramelized onions, tomatoes, and sweet potato goodness topped with melted mozzarella, you'll want to make this for breakfast every single morning!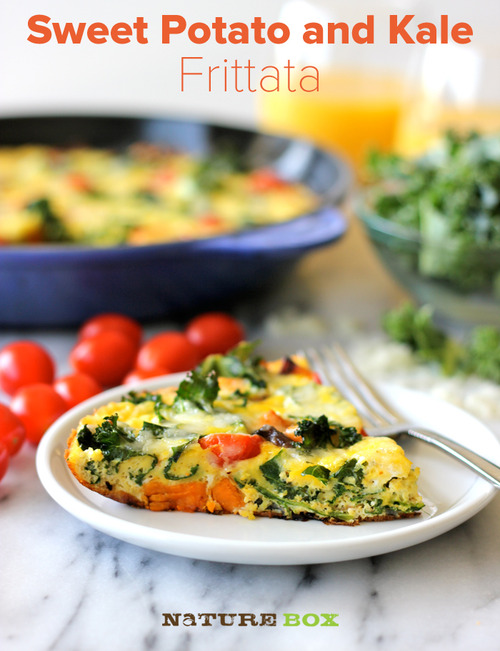 Serves: 4 
Cook time: 25-30 minutes
Ingredients:
6 large eggs

2 tablespoons reduced fat milk

Kosher salt

Freshly ground black pepper, 

2 tablespoons olive oil

2 garlic cloves, minced

2 sweet potatoes, peeled and diced

1/2 red onion, thinly sliced

2 cups chopped kale

1 cup cherry tomatoes, halved

1/3 cup shredded mozzarella
Directions:
1. Preheat oven to 350 degrees F.
2. In a large bowl, lightly beat eggs until combined. Add milk, salt and pepper to taste. Set aside.

3. Heat olive oil in a cast iron skillet over medium high heat. Add garlic and cook until fragrant, about 1-2 minutes. Add sweet potatoes and onion and cook, stirring occasionally, until the potatoes have softened and onions have caramelized, about 8-10 minutes. Add kale and cook, stirring occasionally, until wilted, about 2 minutes. Add egg mixture and tomatoes, and cook until the eggs start to set, about 3-4 minutes. Sprinkle with mozzarella.
4. Place into oven and bake until the top is set and cheese has melted, about 10 minutes.
5. Slice the frittata into wedges and serve immediately.
Want more frittata? Check out Chung-Ah's other recipe for "Clean Out the Fridge" Veggie Frittata.
Get more healthy ideas and delicious snacks by joining NatureBox. Enter coupon code NATURE for 25% off your first month subscription!
Chung-Ah, the author behind Damn Delicious, loves to take simple ingredients and transform them into sophisticated and elegant meals.