Looking for a gluten-free take on traditional stir-fry? We made this quick dish with lots of veggies and tofu noodles in less than 30 minutes from start to finish!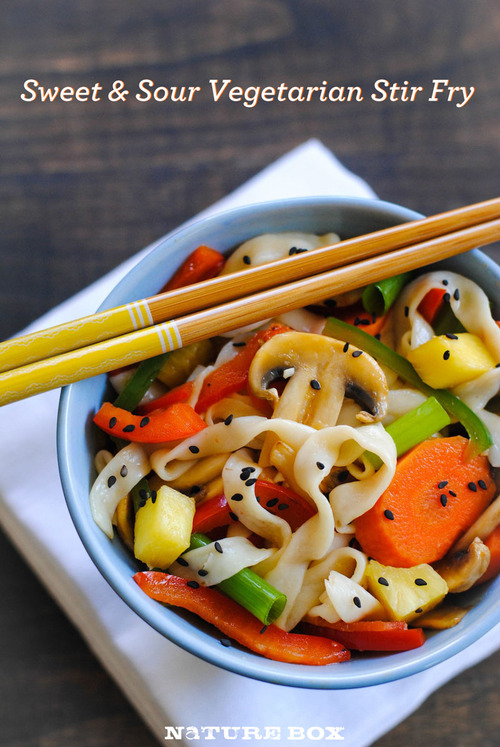 Serves: 2
Prep time: 20 minutes
Cook time: 6 minutes
Ingredients:
For the sweet & sour sauce:
1 small garlic clove, minced
3 tablespoons water
2 tablespoons pineapple juice
1 tablespoon light brown sugar
2 teaspoons apple cider vinegar
2 teaspoons organic ketchup
2 teaspoons soy sauce
1 teaspoon cornstarch
1 teaspoon ground fresh ginger
For the stir-fry:
1 tablespoon olive oil
6 button mushrooms, thinly sliced
1 carrot, thinly sliced
1/2 red bell pepper, thinly sliced
1/2 jalapeño pepper, seeded and thinly sliced (optional)
2 green onions, cut into 2-inch pieces
1 bag (8 ounces) tofu fettuccine, rinsed well
1/4 cup chopped fresh pineapple
Black sesame seeds, for garnish
NatureBox Teriyaki Twists, for garnish
NatureBox Sriracha Roasted Cashews, for garnish
Directions:
1. In small bowl, whisk together all sweet & sour sauce ingredients until smooth. Set aside.
2. In large skillet or wok, heat oil over medium-high heat until very hot. Add mushrooms, carrot, red pepper and jalapeño (if using). Cook until vegetables are tender-crisp, stirring frequently, about 3-4 minutes.
3. Add green onions, tofu fettuccine, pineapple and sweet & sour sauce. Bring to boil, then reduce heat to medium. Cook until sauce thickens and noodles are warmed through, stirring frequently, about 2 minutes.
4. Serve garnished with black sesame seeds, Teriyaki Twists and/or Sriracha Roasted Cashews, if using.
Still hungry? Try this other stir-fry recipe, Vietnamese Tofu Noodles!
Get more healthy ideas and delicious snacks by joining NatureBox. Sign up today to get 50% off your first box!
Lori is a Detroit-area food writer, recipe developer and restaurant reviewer. She's usually found in the kitchen cooking up something that undoubtedly involves beets, lemons or coconut for her blog, Foxes Love Lemons. Check out more of her recipes here.