Need a lazy lunch? Whip up this quick stir fry and add our Teriyaki Twists for full-flavored crunch!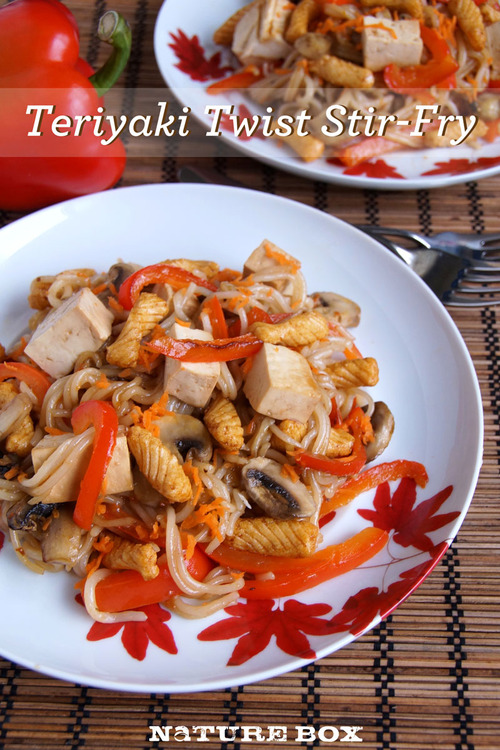 Ingredients:
For the Teriyaki Sauce:
1/4 cup reduced sodium soy sauce
1 tablespoon rice vinegar
2 tablespoons water
1/2 tablespoon brown sugar
1 tablespoon granulated sugar
1/2 teaspoon ground ginger
1 clove garlic, minced
1 teaspoon corn starch
For the stir-fry:
12 ounces rice noodles (about 2 cups), cooked
2 tablespoons olive oil, divided
1 red bell pepper, sliced
1 cup sliced white mushrooms
1 carrot, shredded
14 ounces firm tofu, cubed
Directions:
1. Make teriyaki sauce: Add all ingredients to a small bowl and whisk together. Heat in a saucepan over low heat for 3 minutes, constantly stirring.
2. In a small skillet, add 1/4 cup teriyaki sauce. Add cubed tofu to the skillet and simmer for 5 minutes, stirring occasionally.
3. In a medium-sized skillet, heat 1 tablespoon olive oil over medium heat. Add the sliced bell pepper and mushrooms, and cook for 7 minutes. Stir occasionally. Transfer the bell pepper and mushrooms to a plate and add the remaining oil to the skillet.
4. Add the cooked rice noodles to the skillet and stir for 1 minute.Add the remaining teriyaki sauce, tofu, bell pepper, shredded carrots, NatureBox Teriyaki Twists and mushrooms and toss well with the rice noodles. Garnish by sprinkling extra shredded carrots over the top.
Get more healthy ideas and delicious snacks by joining NatureBox. Sign up today to get 50% off your first box!
Kristianne is the founder of My San Francisco Kitchen, where she shares everyday recipes that focus on cooking/baking from scratch.