Stuck inside with the winter blues? Rest assured, we've got just what you need to stay warm until the cold weather blows over! This Thai-inspired dish combines silky sweet coconut milk and bold spices for a mouthwatering treat. Pro tip: Prepare garnishes in advance for a quicker weeknight meal.
Serves: 4
Prep Time: 20 minutes
Cook Time: 15 minutes
Ingredients:
For the Shrimp & Noodle Bowls:
3 garlic cloves, minced
3 cups less-sodium chicken broth
1 can (14 ounces) coconut milk (lite coconut milk can also be used)
1-1/2 teaspoons grated fresh ginger
1 teaspoon ground coriander
1 teaspoon ground turmeric
1 teaspoon sambal oelek (Asian chili paste)
1/2 teaspoon curry powder
1 package (14.2 ounces) soba stir-fry noodles
2/3 pound raw 26-30 count peeled and deveined shrimp, tails removed
For Garnish:
4 baby bok choy, steamed*
4 radishes, thinly sliced
1 jalapeño pepper, thinly sliced
1/4 cup NatureBox Old Fashioned Blister Peanuts
Sriracha or additional sambal oelek, for serving (optional)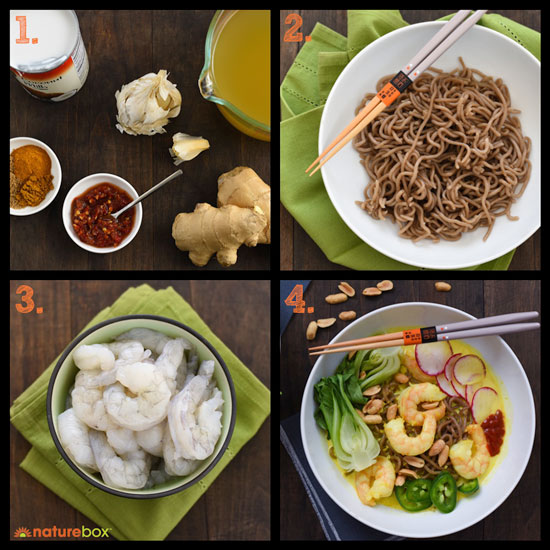 Directions:
1. In medium pot, stir together garlic, broth, coconut milk, ginger, coriander, turmeric, sambal oelek and curry powder. Heat to boiling over medium-high heat. Reduce heat to medium-low; simmer uncovered 10 minutes.
2. Meanwhile, prepare noodles according to package directions.
3. Add shrimp to pot; cover and cook 4 to 5 minutes or until shrimp turn opaque throughout.
4. To serve, divide noodles between 4 bowls. Ladle shrimp and broth mixture over noodles. Divide garnishes between bowls and serve with sriracha or additional sambal oelek, if desired.
*To quickly steam bok choy, halve lengthwise and place in microwave-safe bowl. Add 2 tablespoons water; cover with paper towel or plastic wrap. Microwave on high 3 minutes.
Get more healthy ideas and delicious snacks by joining NatureBox. 
Lori Yates is a Detroit-area food writer and recipe developer. She is the author of Foxes Love Lemons, where she posts special yet simple original recipes, tips from her culinary school adventures and restaurant reviews. Her mission is to encourage people to enjoy the act of cooking at home. You can follow her on Facebook and Twitter @foxeslovelemons.