Thai-style pizza doesn't have to just come from that gastropub across town. Call it a cozy night in and make this colorful, vegetable-filled dish at home with your loved ones. It's perfect for vegans, vegetarians and veggie-loving carnivores! But we should warn you – you may want to double the recipe for the spicy peanut sauce just so you can have extra!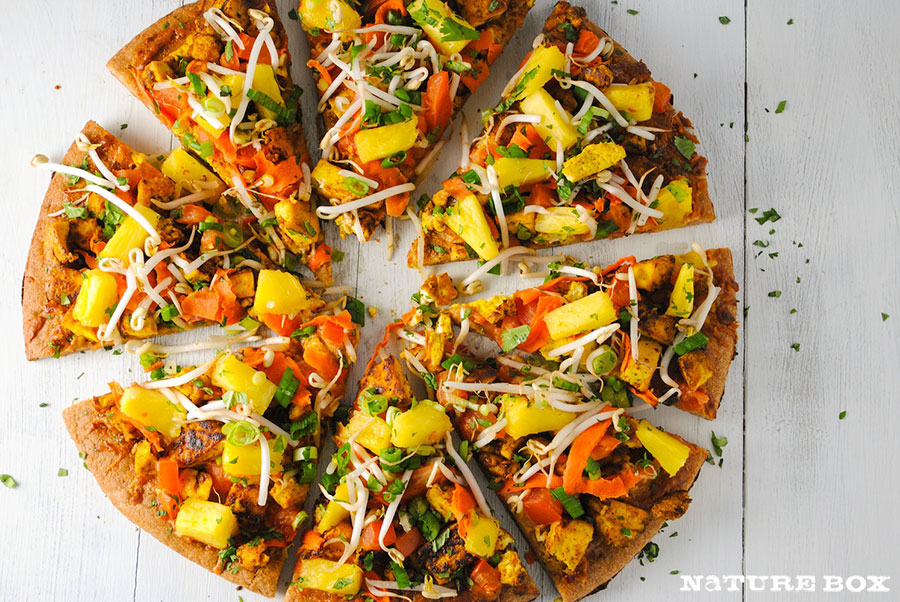 Serves: 4
Prep time: 20 minutes
Cook time: 20 minutes
Ingredients:
For the Spicy Peanut Sauce:
3 tablespoons peanut butter
1 tablespoon rice wine vinegar
1 tablespoon sambal oelek
1-1/2 teaspoons low-sodium soy sauce
1-1/2 tablespoons extra virgin olive oil
For the Pizza:
1 teaspoon extra virgin olive oil
8 ounces firm tofu, drained, patted dry and cut into 1/2-inch cubes
1/2 teaspoon curry powder
1 prepared whole wheat pizza crust
1 medium carrot, shredded
1 medium tomato, chopped
2/3 cup chopped pineapple
2 green onions, thinly sliced
1/4 cup bean sprouts
1 tablespoon chopped fresh cilantro
1 tablespoon chopped fresh mint
Juice of 1/2 lime
Directions:
1. Prepare Spicy Peanut Sauce: In small bowl, whisk together peanut butter, vinegar, sambal oelek and soy sauce. While whisking, slowly drizzle in oil until all oil is incorporated.
2. Make Pizza: Preheat oven to 450 degrees F. Heat oil over medium-high heat in large nonstick skillet. Sprinkle tofu with curry powder, then add to skillet. Cook tofu 10 to 12 minutes or until golden brown; turning once with a spatula halfway through cooking.
3. Place pizza crust on baking pan and spread with Spicy Peanut Sauce. Divide carrot, tomato, pineapple and tofu over sauce. Transfer to oven; bake 10 minutes or until bottom of crust is golden brown.
4. Remove pizza from oven; sprinkle with onions, bean sprouts, cilantro and mint. Squeeze lime juice over pizza, cut into 8 slices and serve immediately.
Still hungry? Try our other pizza recipes!
Pics or it didn't happen! When you whip up this recipe, post it on Instagram or Facebook with the hashtag #natureboxrecipe so we can like and reshare it!
Get more healthy ideas and delicious snacks by joining NatureBox. Sign up today to get 50% off your first box!