This savory take on waffles with rosemary and sage takes a twist on the classic brunch dish. Serve this with your Thanksgiving leftovers, warmed up and ready to go!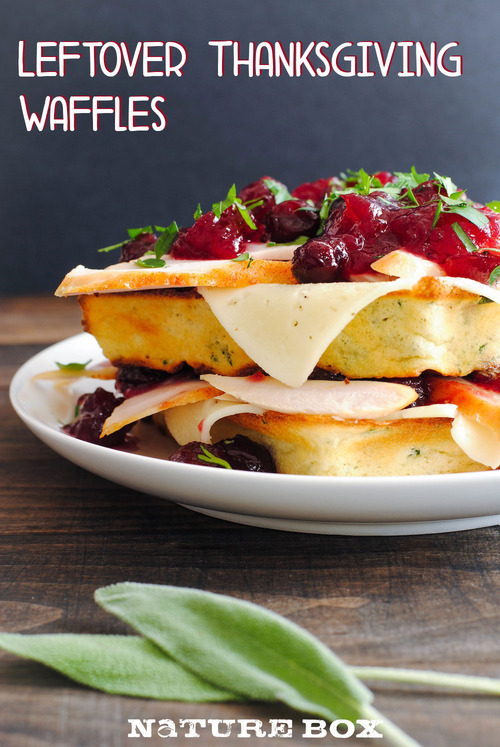 Serves: 4
Prep time: 15 minutes
Cook time: 20 minutes
Ingredients:
For the waffles:
2 eggs, separated
3/4 cup + 2 tablespoons buttermilk
4 tablespoons unsalted butter, melted
3/4 cup + 2 tablespoons all-purpose flour
1 teaspoon baking powder
1/2 teaspoon baking soda
1/2 teaspoon kosher salt
2 tablespoons granulated sugar
2 tablespoons finely chopped fresh parsley
1 tablespoon finely chopped fresh sage
1 teaspoon finely chopped fresh rosemary
For the toppings:
Cranberry Sauce
Havarti Cheese Slices
Sliced Roasted Turkey, warmed
Gravy, warmed (optional)
Chopped Fresh Parsley for garnish
Directions:
1. Make the waffles: Preheat waffle maker to medium-high heat. Preheat oven to 200 degrees F. In large bowl, whisk together egg yolks, buttermilk and butter. In small bowl, stir together flour, baking powder, baking soda, salt and sugar; whisk flour mixture into buttermilk mixture.
2. In separate medium bowl, whisk egg whites until soft peaks form. Using rubber spatula, fold egg whites, parsley, sage and rosemary into buttermilk mixture until just combined. Do not overmix.
3. In batches, transfer waffle batter to waffle maker and cook until golden brown and crisp, according to waffle maker instructions. Transfer waffles to wire rack set on baking sheet and keep warm in oven while cooking remaining waffles.
4. Serve waffles warm with toppings of choice.
Pics or it didn't happen!When you whip up this recipe, post it on Instagram or Facebook with the hashtag #natureboxrecipe so we can like and reshare it!
Get more healthy ideas and delicious snacks by joining NatureBox. Sign up today to get 50% off your first box!
Lori is a Detroit-area food writer, recipe developer and restaurant reviewer. She's usually found in the kitchen cooking up something that undoubtedly involves beets, lemons or coconut for her blog, Foxes Love Lemons. Check out more of her recipes here.