by NatureBox Nutritionist Kat Brown, MS RD RYT
You've seen it on the shelf or menu and maybe have even tried it at home- but can you pronounce it? Repeat after me: "keen-wah". Quinoa is a recent addition to grocery market shelves, but has been around, and revered by Incan people, for thousands of years. Here's why:
Naturally nutrient dense, quinoa is not only a complete source of protein (8 grams of high quality protein per cup- as much as a cup of milk!) and fiber, but is also a good source of the B vitamin folate and iron. Quinoa is technically a seed, not a grain, but it has a similar consistency and nutritional value to grains. So for our purposes, we'll put it in the grain department. Here are some ways to incorporate this superfood into your diet.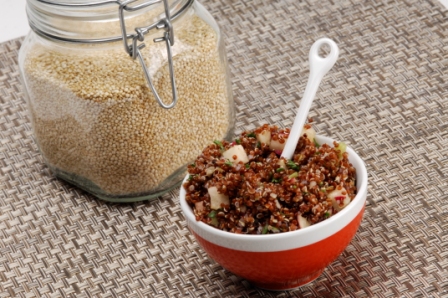 Preparation
Quinoa cooks up like rice- rinse the grains, measure out 2 parts water to 1 part quinoa and bring to a boil. Simmer, covered, for 10-15 minutes until water is absorbed and a light colored ring (it looks like a little "halo") appears on the outside of the grain. Alternatively, quinoa can be prepared in a rice cooker on the white rice setting.
Uses
Quinoa has a similar consistency to couscous (think light and airy) when cooked, lending itself to a number of uses.
Try it in place of oatmeal or cream of wheat in the morning for a nuttier, protein-packed swap. Add some dried fruit, nut butter and sweetener if you like, and you have a breakfast with serious staying power. 
Quinoa is perfect in salads- its grainy texture mixes nicely with chopped veggies, nuts or beans, and vinaigrette. Or try a southwestern spin with diced tomatoes, black beans, bell pepper or green onions, corn, olive oil and lime juice. 
Vegetarian dishes- because of its high protein content, quinoa makes a great main course in place of a meat-focused dish. Try it mixed with black beans, veggies and spices for your own homemade veggie burgers or in place of meat in stuffed peppers.
Including new or less familiar nutrient dense foods in your diet can take some effort, but with some creativity and experimentation, you can create nutritious, crowd-pleasing meals.
Stay tuned to the blog tomorrow- we'll be sharing a round-up of some delicious quinoa recipes from our community members!
Get more healthy ideas and delicious snacks by joining NatureBox. Enter coupon code HEALTHY for 25% off your first month subscription!
Kat Brown MS RD RYT is a San Francisco Bay Area based Registered Dietitian and Yoga Teacher. As a nutrition counselor, writer, cook, and yogini she seeks to inspire others to nourish themselves and live balanced, fulfilled lives.