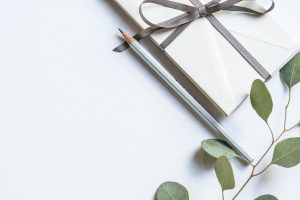 Tis the season to show – not just tell – your clients you care.
As you gear up for the holiday months ahead, consider corporate gifting as an opportunity to enhance your client's loyalty with your business, stand out from your competition, and boost your sales in the process.
What is corporate gifting?
Corporate gifting is the practice of delivering special items or treats to employees, associates, current clients, new leads, and prospects. 
If your goal is to wow your clients and develop stronger relationships with other businesses, this should be a key part of your marketing strategy. 
The benefits of corporate gifting
Don't want to move forward with buying potentially unnecessary gifts until you understand  the benefits behind it? Here's what you need to know about the principle of reciprocity.
The reason corporate gifting works is because of the psychology of persuasion. 
People are obliged to give back to others in the form of a behavior, gift, or service they've received first. In the context of a social obligation, people are more likely to say yes to those who they owe.
The interesting part about this is that the exchange does not have to be equivalent. If your business sends a personalized snack box to a prospect, this principle of reciprocity indicates that the lead is more likely to become a loyal client, whether you spend $5 or $5,000 on the gift.
Additional reasons to give corporate gifts:
Raise brand awareness

Improve brand image and reputation

Maintain client loyalty and generate leads

Generate referrals and increase sales

Build stronger B2B and B2C relationships

Motivate the workforce

Strengthen relationships between employees and employers
Corporate gifts – especially if they are branded, practical, or personalized – are proven to generate greater recall than other forms of marketing. Plus, a study shows that over 80% of C-suite executives believe that corporate gifts create positive and measurable ROI and pay for themselves two-fold.
That leads right into the next question you may have: Who do I send these gifts to in order to see a positive ROI in client loyalty and sales?
Who gets a gift?
Knowing the benefits of gifting can help you determine who should receive something from your business this year. 
No clue where to start? Here's a list of who to include when you send out corporate gifts this year:
Current clients

Leads

Prospects

Associates

Employees
That last one may surprise you, but it's not a typo. It's easy to remember to prioritize sending a gift to your current clients or prospects but don't forget the people who work for you as well. They deserve a pick-me-up too! 
When is the best time to send out corporate gifts?
If you want to send presents to new leads, current clients, or employees for the upcoming holiday season, there's no better time than right now. 
But the end of the year isn't the only appropriate situation for gifting. You can also give gifts for:
Birthdays

Personal accomplishments

Professional achievements

Employee or client appreciation

New clients during onboarding

Work anniversaries
Now that you know the benefits of corporate gifting and who to send them to, the next question is where can you find the best, most memorable gifts?
Where to get the best gift
You can't go wrong with scrumptious snacks that taste as good as they make you feel.
Take the guesswork out of gifting with NatureBox. Treat both new leads and existing clients to a WOW moment when you give the gift of great tasting, better-for-you snacks. 
You can scour the Internet for gifting guides galore or simply go with what you know already works: food. Plus, the power to personalize the box they receive goes a long way to make it both memorable and practical (we bet they can't wait to dive in!).
If you want more suggestions for where to find the perfect gift, the team at NatureBox can recommend:
In the end, the best gift for a new lead, existing client, or employee is the one that's practical, personal, and above all, memorable.