The Benefits of Whole Grains and How to Spot Them

by NatureBox Nutritionist Kat Brown, MS RD RYT
The 2010 Dietary Guidelines for Americans recommend to "make half your grains whole" yet many Americans (some studies show over 95%!) struggle to get in the recommended amount of whole grains in each day. Let's take some time to think about health benefits of whole grains and how to find whole grains on your shopping trips.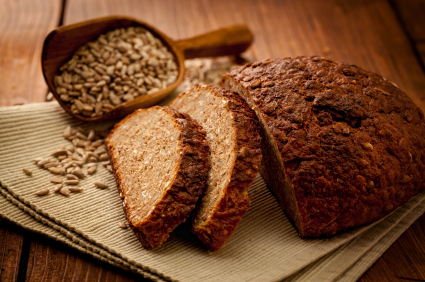 Naturally high in fiber, antioxidants, B vitamins, iron, and magnesium, whole grains are a nutritional powerhouse. When a grain is refined, or made "white", the fiber on the outer portion of the grain is stripped away. This may make for fluffier baked goods, but robs us of the goodness of the whole grain.
Also, when a refined grain has been stripped of that goodness is then later enriched, vitamins and minerals are added back to the product in forms that aren't as rich and potent as the original forms. 
Various types of whole grain foods provide different types of fiber, which have a myriad of health benefits. Soluble fiber (which can be found in oats and barley) has been shown to decrease LDL ("bad" cholesterol) and blood pressure, help to regulate blood sugars, and feed good bacteria in your gut. Insoluble fiber, the kind that is a component of wheat and fruits/veggies, helps to keep blood sugar in check and regulate blood pressure as well.
Now that we're familiar with the benefits of whole grains, how shall we spot them in the store?
Examples of unprocessed whole grains include:
Whole wheat bread

Whole wheat bulgur

Whole wheat couscous

Brown rice

Steel-cut oats, rolled oats

Whole rye
To find crackers, pastas, breads, and other products made from whole grains, look for the phrase "whole wheat" or "whole grain" in the first few ingredients on the label. Try new products out to see what you like- the whole grain products on the shelves today have come a long way when it comes to palatability and texture.
Experiment with different products to find whole grains to incorporate into your nutritious, well-balanced diet! Keep it fun and remember that all foods can fit in the context of a healthy diet- so if you or your family can't break away from white bread on occasion, enjoy it in moderation and look for other ways to fit in whole grain foods throughout the day.
Get more healthy ideas and delicious snacks by joining NatureBox. Enter coupon code HEALTHY for 25% off your first month subscription!
Kat Brown MS RD RYT is a San Francisco Bay Area based Registered Dietitian and Yoga Teacher. As a nutrition counselor, writer, cook, and yogini she seeks to inspire others to nourish themselves and live balanced, fulfilled lives.