by Kristianne Hannemann of My San Francisco Kitchen
Here, we simmered sweet potatoes and tofu in curry and coconut milk for a hearty but healthy Meatless Monday dish!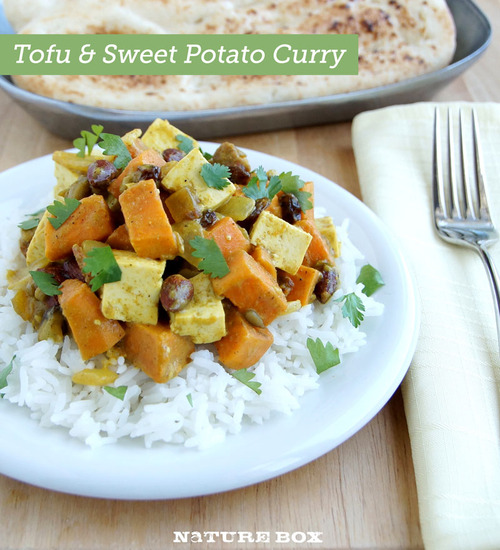 Serves: 4
Prep time: 10 minutes
Cook time: 25 minutes
Ingredients:
2 tablespoons canola oil

1 sweet potato, peeled and diced

1/2 onion, chopped

3 garlic cloves, minced

3 tablespoons curry powder

1/2 teaspoon ginger powder

1/2 teaspoon kosher salt

1/2 teaspoon freshly ground black pepper

2 cups light coconut milk

1 package (14 ounces) extra-firm tofu, drained and cubed

2 cups cooked jasmine rice (for serving)

Fresh cilantro (for garnish)
Directions:
1. In a large skillet over medium heat, heat 1 tablespoon canola oil.
2. Add sweet potato, onion and garlic and simmer for 7 minutes, until onions are translucent.
3. Add the curry powder, ginger powder, salt, pepper and coconut milk. Stir well, bring to a boil and reduce to simmer until the sweet potato is tender, about 15 minutes.
4. Meanwhile, in a separate skillet over medium heat, heat remaining 1 tablespoon canola oil. Add tofu and season with salt and pepper, to taste. Stir occasionally while cooking for 4 minutes. Add the cooked tofu and Taj Mahal Snack Mix to the curry sauce.
5. Serve immediately over jasmine rice and sprinkle freshly chopped cilantro over the top for garnish.
Get more healthy ideas and delicious snacks by joining NatureBox. Enter coupon code NATURE for 25% off your first month subscription!
Kristianne is the founder of My San Francisco Kitchen, where she shares everyday recipes that focus on cooking/baking from scratch.