There's so much to love about quinoa. It has all the essential amino acids (so your body will love you for feeding it this super food) and it's easy to prepare it in big batches. Make this recipe today so you have lunch for the rest of the week — plus, this makes great use of your Garden Tomato Crunchies (or whatever almonds you happen to have on hand)!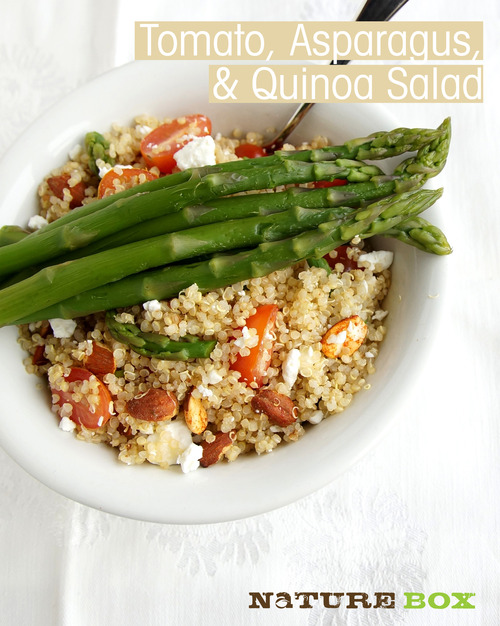 Serves: 8
Cook time: 20 minutes
Ingredients:
2 cups white quinoa
1 pound asparagus, trimmed
1 cup cherry tomatoes
1/2 cup light feta cheese
2 tablespoons olive oil
Freshly ground black pepper, to taste
Directions:
1. Cook the quinoa: Add 4 cups of water to a pot and bring to a boil. Add quinoa and cover. Reduce heat to low and simmer until almost all the water has evaporated, about 12-15 minutes. Remove from heat, fluff with fork and set aside.
2. Bring a large pot of salt water to boil. Add asparagus and let blanch until slightly tender, about 3-5 minutes. Strain and slice asparagus into bite-sized pieces.
3. Add Garden Tomato Crunchies, asparagus, cherry tomatoes, feta cheese and olive oil to the cooked quinoa and toss together. Add pepper to taste.
Pics or it didn't happen! When you whip up this recipe, post it on Instagram or Facebook with the hashtag #natureboxrecipe so we can like and reshare it!
Get more healthy ideas and delicious snacks by joining NatureBox. Sign up today to get 50% off your first box!