The Perfect "End of Summer" Salad!

from the NatureBox editors

Yes, we said it. It's almost the end of summer. Goodbye summer produce, lazy days at the pool, and getting lost in another book. Hello backpacks, crunchy leaves, and pumpkin! Send summer off in style with this quick and easy Tomato Asparagus Salad. The fresh produce in this recipe really speaks for itself so you won't need fancy ingredients or complicated directions. Feel free to use any cheese that suits your fancy and enjoy this salad al fresco while the nice weather's still here.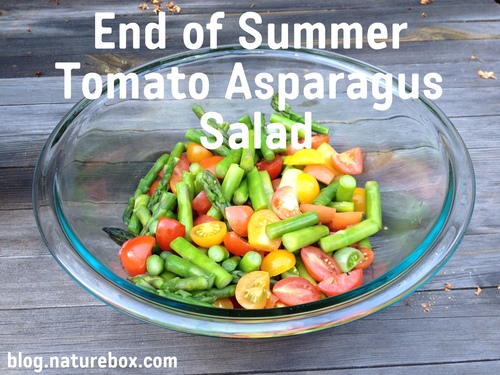 Ingredients:
1 bunch of asparagus, cut off tough ends and then cut the rest into ~1" pieces
1 pint of cherry tomatoes (or 3-4 large tomatoes, diced)
1 shallot, thinly sliced
1 TBSP Extra Virgin Olive Oil
1 TBSP Balsamic vinegar
salt + pepper to taste
Optional:
Peels of pecorino romano/parmigiana reggiano cheese
1 oz goat or feta cheese, crumbled
Directions:
1. Steam asparagus in vegetable steamer over boiling water for ~5 minutes (after 5 minutes try one… the color of the asparagus should have popped to a bright green and it should be edible but still with a bit of a bite/crunch). Quickly plunge asparagus into a big bowl of water + ice cubes to stop the cooking, drain asparagus.
2. Toss asparagus with chopped tomatoes, sliced shallot, olive oil, vinegar and salt & pepper. Add any other flavorings/seasoning to taste and top with cheese of choice.

Get more healthy ideas and delicious snacks by joining NatureBox. Enter coupon code NATURE for 25% off your first month subscription!