Trick or… beet? That's right; these brownies have a hidden ingredient that amp up the potassium and vitamins in each chocolaty serving. Best of all, you'd never know that beets have snuck their way into this recipe. It's perfect for all holidays, or when you've got a sweet tooth – just use the appropriate decor (if any!).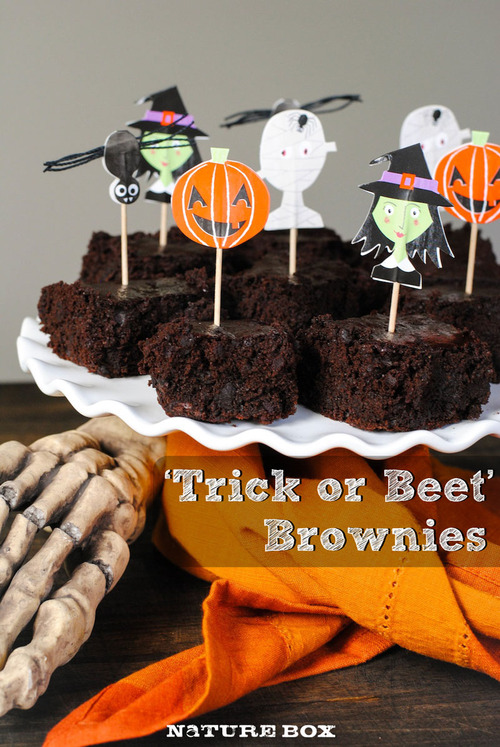 Makes: 24 brownies
Prep time: 20 minutes
Cook time: 1 hour, 30 minutes
Ingredients:
2 large beets, roots and leaves trimmed, scrubbed
Organic nonstick cooking spray
1 cup plus 2 tablespoons cocoa powder
3/4 cup all-purpose flour
1 teaspoon baking powder
1/2 teaspoon sea salt
1/8 teaspoon baking soda
3 eggs
3/4 cup light brown sugar
2/3 cup organic grapeseed oil
1/2 cup organic honey
2 teaspoons vanilla extract
2-1/2 teaspoons instant espresso powder
3/4 cup dark chocolate morsels
Directions:
1. Preheat oven to 425 degrees F. Wrap beets in foil and place on rimmed baking pan. Bake 1 hour to 1 hour, 15 minutes or until beets are easily pierced with knife. Let cool, then use paper towel to rub off skins. Shred beets on largest holes of box grater. (This step can be done up to 3 days in advance).
2. Lower oven temperature to 325 degrees F. Spray 9 x 13-inch baking pan with cooking spray. In medium bowl, whisk together cocoa powder, flour, baking powder, salt and baking soda.
3. In large bowl, whisk eggs, brown sugar, oil and honey until well combined. Stir in vanilla extract, espresso powder and shredded beets. Add flour mixture; stir until very well combined. Stir in chocolate morsels.
4. Pour brownie batter into prepared pan. Transfer to oven and bake 28 to 30 minutes or until toothpick inserted in center of pan comes out clean. Transfer to wire rack and let cool completely before cutting and serving.
Get more healthy ideas and delicious snacks by joining NatureBox. Sign up today to get 50% off your first box!
Lori is a Detroit-area food writer, recipe developer and restaurant reviewer. She's usually found in the kitchen cooking up something that undoubtedly involves beets, lemons or coconut for her blog, Foxes Love Lemons. Check out more of her recipes here.