by Chung-Ah Rhee of Damn Delicious
With summer right around the corner, it's time to fire up the grill and throw on some hot dogs. You can definitely use turkey hot dogs here along with some whole wheat buns for a heart healthy dog – you can't beat that!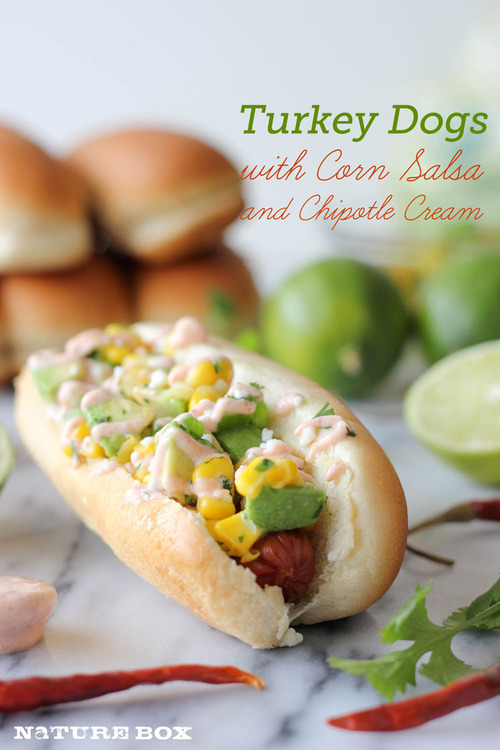 Ingredients:
2 cups corn kernels
1 jalapeño, seeded and diced
1/4 cup diced red onion
2 tablespoons chopped fresh cilantro leaves
2 tablespoons freshly squeezed lime juice
Pinch of sugar
Pinch of salt
1/4 cup Greek yogurt
1 teaspoon chipotle peppers in adobo sauce, or more to taste
6 turkey dogs
6 whole wheat hot dog buns
1 avocado, halved, seeded, peeled and diced
Directions:
1. Make corn salsa: In a large bowl, combine corn, jalapeño, red onion, cilantro, lime juice, sugar and salt. Stir in avocado and set aside.
2. Make chipotle cream: In a small bowl, whisk together Greek yogurt and chipotle peppers; set aside.
3. Preheat grill to medium high heat. Add hot dogs to the grill and cook until lightly browned, about 3-4 minutes.
4. To assemble the hot dogs, add hot dogs into each hot dog bun, top with avocado, corn salsa and a drizzle of chipotle cream.
Get more healthy ideas and delicious snacks by joining NatureBox. Enter coupon code NATURE for 25% off your first month subscription!
Chung-Ah, the author behind Damn Delicious, loves to take simple ingredients and transform them into sophisticated and elegant meals.