Make the kids a fun Valentine's lunch with these simple ideas!
Valentine's is a perfect excuse to put a little extra love in the lunch boxes, too! I love to make my kids' cute meals without all the excessive treats that seem to be circulating right about now.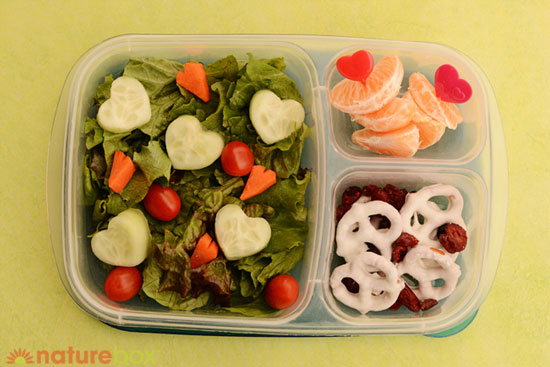 I make this lunch for my older son. I cut the cucumber slices with a heart-shaped cookie cutter. The carrot hearts are pretty easy, too: before cutting the slices, cut a "V" shape in the top of the carrot and then a point at the bottom. Then start slicing it into several hearts. I also include NatureBox Greek Yogurt Pretzels mixed with NatureBox Cranberry Medley…I love the mix of the red and white (and pretzels are heart-shaped, too!). I also skewer some mandarin slices onto little heart picks from the craft store.
This is the same lunch, but for the younger crowd (or non-salad crowd, perhaps?). Instead of the salad, I did a sandwich. I use a heart cookie cutter and cut a heart in one slice of bread…replacing it with a heart cut from the heal of the bread. Simple and easy!
Happy Heart Season!
Get more healthy ideas and delicious snacks by joining NatureBox. Sign up today to kick off your membership with a free trial!
Kristi Dominguez is a former event planner and part-time graphic designer. She blogs at IShouldBeMoppingTheFloor.com where she tackles projects to turn her cookie-cutter home into something more exciting. A lot more exciting.