Not the biggest chocolate fan? No problem! Here's a savory Valentine's Day treat that doesn't require any chocolate. Whether you're hosting a singles' dinner party or whipping up a meal for your special someone, this Valentine's themed snack board is the perfect way to start the evening.
We used a cookie cutter to shape cucumbers, red and green peppers, summer sausage and toasted bread into little hearts. We also included baby carrots and placed blueberries, NatureBox Cranberry Medley and NatureBox Sriracha Roasted Cashews in the cooke cutters to add more Valentine's fun to the board. Keep on reading for a Lemon Herb Vinaigrette recipe which can be used as a dipping sauce!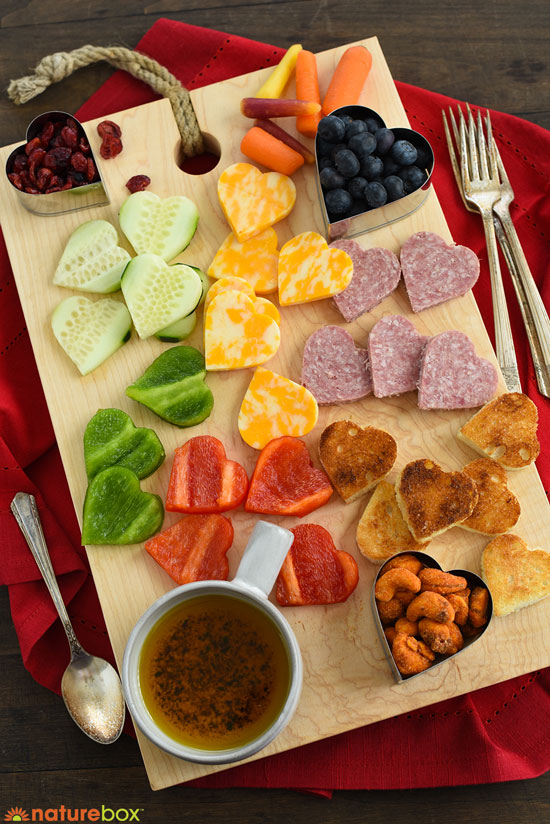 Lemon Herb Vinaigrette
Makes: About 1/4 cup
Prep Time: 5 minutes
Ingredients:
1 tablespoon fresh lemon juice
1/2 teaspoon Dijon mustard
1/2 teaspoon Italian seasoning (dried herb mix)
1/4 cup extra virgin olive oil
Directions:
1. In small bowl, whisk together lemon juice, mustard and seasoning. While whisking, slowly drizzle in oil until all oil is incorporated.
Get more healthy ideas and delicious snacks by joining NatureBox. 
Lori Yates is a Detroit-area food writer and recipe developer. She is the author of Foxes Love Lemons, where she posts special yet simple original recipes, tips from her culinary school adventures and restaurant reviews. Her mission is to encourage people to enjoy the act of cooking at home. You can follow her on Facebook and Twitter @foxeslovelemons.