by Angie Ramirez for NatureBox
Enjoy these granola cookies in the afternoon with a cup of coffee or warm milk! They're perfect for a lazy weekend afternoon!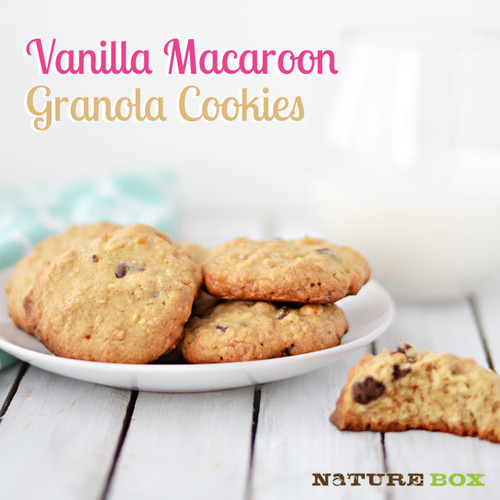 Ingredients:
1 cup of flour
1/4 teaspoon of baking powder
pinch of salt
1/2 cup of vegan butter or regular butter
1/2 cup of brown sugar
1 egg or egg substitute
1/4 cup of dark chocolate chips (optional)
1 bag of NatureBox Vanilla Macaroon Granola
1/4 cup of unsweetened coconut flakes
Directions:
1. Preheat oven to 375 degrees. In a medium bowl combine flour, salt and baking powder. Set aside.
2. In a stand mixer, beat butter and sugar until light and fluffy four about 5 minutes. Add egg, mixing until combined. Add flour mixture. Add coconut, Vanilla Macaroon Granola and dark chocolate chips (if using). Mix well.
3. Line cookie sheet with parchment paper or a silicon baking sheet. Add 1-1/2-inch mounds of batter to the sheet about 1 inch apart. Bake until lightly golden brown, about 10-15 minutes.
Get more healthy ideas and delicious snacks by joiningNatureBox. Sign up today to get 50% off your first box!
Angie shares yummy food, easy DIY crafts, adventures of motherhood, and everything in between on her blog, Little Inspiration. Check out more of her healthy and fun recipes here.