Casserole doesn't have to be full of cheese! Here, we used sliced eggplants and mushrooms for a substantial bite, and fresh tomatoes for the sauce. It's topped with just a sliver of cheese and popped into the oven to let all the flavors combine.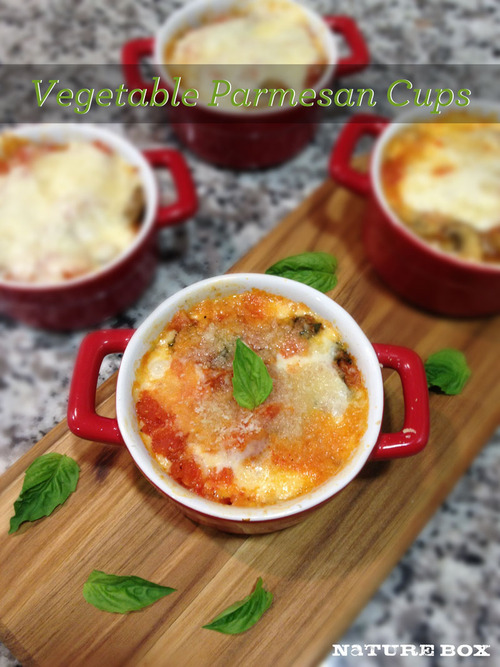 Serves: 4-6 (Makes 6 mini casseroles)
Prep time: 30 minutes
Cook time: 35 minutes
Ingredients:
1 quart water
6 medium roma tomatoes (about 2-1/2 pounds)
1 small eggplant (about 8 ounces), sliced into 1/2" rounds
Olive oil
8 white button mushrooms, sliced into bite-sized chunks
3 garlic cloves
1/4 cup fresh basil leaves, chiffonade or torn into pieces
Kosher salt, to taste
Freshly ground black pepper, to taste
Dried hot red pepper flakes, to taste
1/2 pound fresh mozzarella, thinly sliced
6 tablespoons finely grated Parmigiano-Reggiano
Directions:
1. Preheat oven to 350 degrees F.
2. Blanch tomatoes: In a medium pot, bring water to a boil. Score the bottoms of the tomatoes with an "x". Add tomatoes to the boiling water and let cook until slightly softened and the skin starts to wrinkle, about 4 minutes. Remove from hot water and add to a bowl of ice water, to stop the cooking process. Once cool enough to handle, peel off the skins and slice each tomato in half. Set aside.
3. Lightly saute eggplant: Brush each eggplant slice with olive oil and season each with a small pinch of salt and pepper. In a large saute pan over medium-high heat, cook the eggplant just until lightly browned, about 2 minutes on each side. Set aside.
4. Cook mushrooms: Add a dash of olive oil to the still-hot saute pan and cook the mushrooms until they start to release their moisture, about 5 minutes. Set aside.
5.Make tomato-basil sauce: Add the peeled tomatoes and garlic cloves to a food processor. Pulse until well-blended, about 1-2 minutes. Pulse in the chiffonaded or torn basil leaves until just combined, a few seconds. Add the tomato sauce to the saute pan and cook until hot, about 3 minutes. Season with salt, pepper and red pepper flakes, to taste. (Likely, you'll need about 3/4 teaspoon salt, 1/2 teaspoon pepper and 1/4 teaspoon red pepper flakes.)
6. Layer ingredients: In six 4" x 2" ramekins or whatever small ramekins you have, add:
1 tablespoon tomato sauce
1 eggplant slice
1 tablespoon tomato sauce
1 slice mozzarella (about 1/4 ounce)
1-2 tablespoons mushroom
1 tablespoon tomato sauce
1 slice mozzarella (about 1/4 ounce)
1 tablespoon Parmigiano-Reggiano
Alternatively, if you want to make this recipe in 1 baking dish, layer the ingredients in a 2-quart baking dish.
7. Bake until the cheese melts, about 20 minutes in ramekins, or 30 minutes in a baking dish.
Get more healthy ideas and delicious snacks by joining NatureBox. Enter coupon code NATURE for 25% off your first month subscription!
Amanda really wants to help you cook delicious foods and sustain a healthier lifestyle. When she's not goofing around on Twitter she's probably noshing on the pile of NatureBox snacks at her desk.