What are you dishing up for Meatless Monday? We used chorizo-flavored seitan, black beans and green chilies for this quick vegetarian chili. Use your favorite savory NatureBox snacks as garnish, serve it with a wedge of crusty bread or enjoy this comforting dish as is!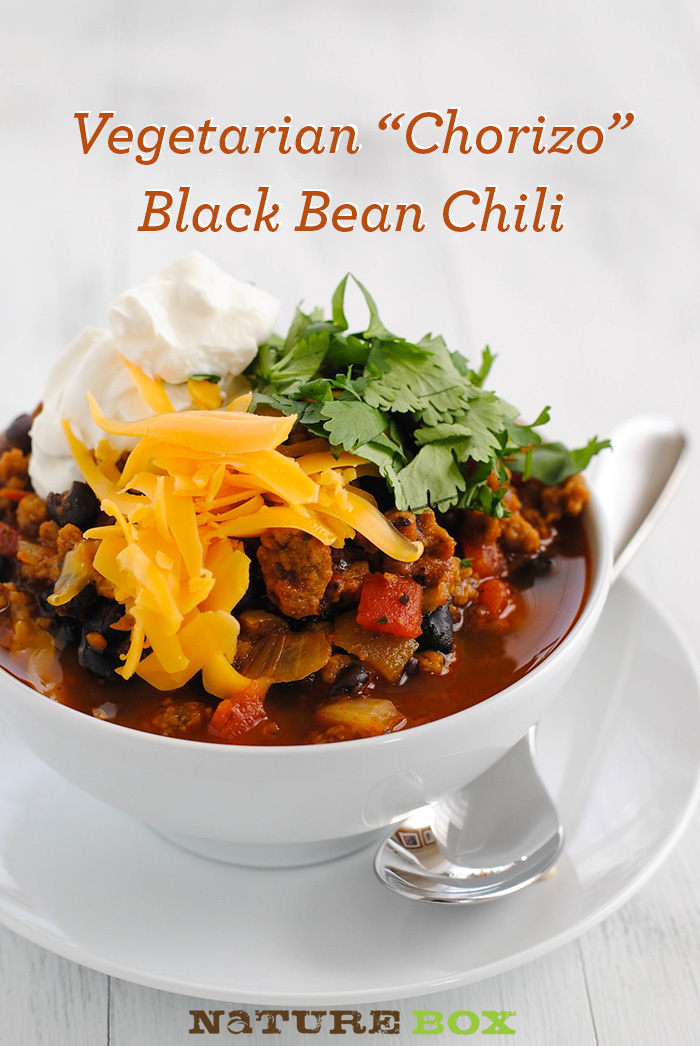 Serves: 4
Prep time: 15 minutes
Cook time: 20 minutes
Ingredients:
1 tablespoon extra virgin olive oil
2 garlic cloves, minced
1/3 medium white onion, chopped
1 (8 ounce) package chorizo-flavored seitan
1 (15 ounce) can black beans, rinsed and drained
1 (14.5 ounce) can crushed tomatoes
1 (4 ounce) can diced green chiles, drained
2 cups vegetable stock
2 teaspoons chili powder
1 teaspoon dried oregano
NatureBox snacks for dipping: Chia Seed Crackers, Oat Bran Dippin' Stix or Masa Crisps
Garnishes (optional): Sour cream or Greek yogurt, cilantro or Cheddar cheese
Directions:
1. Heat oil in medium saucepot over medium-high heat. Add garlic and onion; cook 4 to 6 minutes or until softened, stirring frequently.
2. Add seitan; cook 2 to 3 minutes or until lightly browned, breaking up seitan with side of spoon and stirring frequently.
3. Add beans, tomatoes, chiles, stock, chili powder and oregano. Heat to boiling; reduce heat to medium-low. Simmer 15 minutes or until slightly thickened. Serve with desired garnishes.
Get more healthy ideas and delicious snacks by joining NatureBox.