This noodle dish is has a refreshing savoriness, what with fresh cilantro and lemon juice, and low-sodium soy sauce and rice vinegar. It's topped with protein-packed tofu, pan-fried to golden yumminess. My favorite part? It's easy to cook up a serving for eight, making for a 30-minute meal that'll last for lunch the rest of the work week!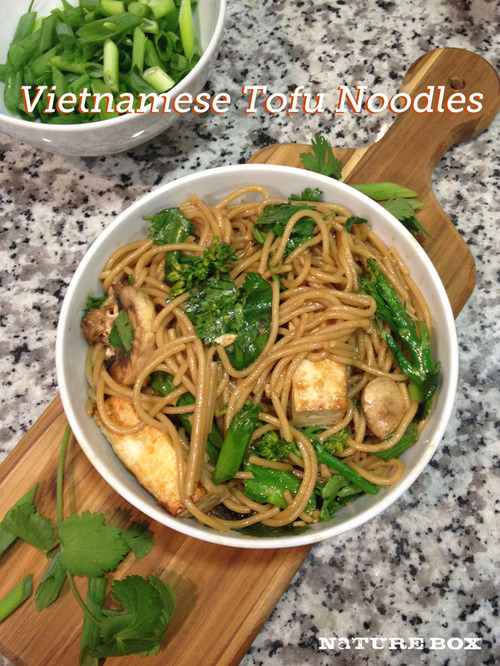 Serves: 6-8
Prep time: 10 minutes
Cook time: 15 minutes
Ingredients:
3/4 cup sherry
1/4 cup low sodium soy sauce
1 tablespoon rice vinegar
1/4 teaspoon freshly ground black pepper
1 package firm tofu (about 10 ounces), sliced into 1/2-inch strips
1 package brown rice pasta noodles (about 1 pound)
3 tablespoons olive oil
1 bunch broccolini
1/2 bunch green onion, sliced on the bias
Juice of 1 lemon
1/2 bunch cilantro, chopped
Directions:
1.In a small bowl, whisk together sherry, soy sauce, rice vinegar and pepper. Add the tofu and let sit for the remainder of your prep time, about 10-20 minutes.
2.Following the package instructions, cook the noodles until al dente, or before done, about 7 minutes.
3. In a large saute pan or wok, heat olive oil over medium heat. Add tofu slices and cook on each side until lightly browned, about 2 minutes on each side. Add cooked noodles, broccolini, green onion, lemon juice and the tofu marinade. Mix well and cook until the broccoli has been cooked through, about 7 minutes. Turn off heat and stir in cilantro.
Get more healthy ideas and delicious snacks by joining NatureBox. Enter coupon code NATURE for 25% off your first month subscription!
Amanda really wants to help you cook delicious foods and sustain a healthier lifestyle. When she's not goofing around on Twitter she's probably noshing on the pile of NatureBox snacks at her desk.