by Amanda Natividad, NatureBox Editor
Let's face it — even if you'll have the time during this long weekend to put together a time-intensive dish, you'd probably rather relax in the sunshine, at the beach, or just with your loved ones, wherever that may be.
As if juicy watermelon and jicama couldn't get anymore refreshing, I added some freshly-squeezed lime juice and a dash of salt for a perfect, sunny-day treat. Enjoy!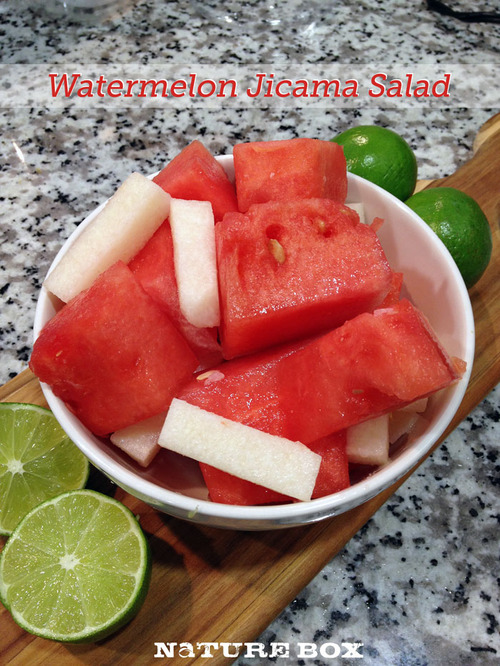 Ingredients:
1 regular-sized seedless watermelon (about 6-7 pounds), roughly chopped

3 medium-sized jicama, chopped into sticks or chunks

Juice of 3 limes

2 pinches kosher salt
Directions:
1. In a large bowl, gentle toss together the watermelon and jicama chunks, along with the lime juice and salt. Serve cold.
Note: You can add more or less lime juice and salt, to taste. You can also make this a day ahead of serving!
Get more healthy ideas and delicious snacks by joining NatureBox. Enter coupon code NATURE for 25% off your first month subscription!
Amanda really wants to help you cook delicious foods and sustain a healthier lifestyle. When she's not goofing around on Twitter she's probably noshing on the pile of NatureBox snacks at her desk.