We recently posted a recipe for a cool and fresh cucumber mint agua fresca. To kick off the month of June and to beat the summer heat, we've concocted another satisfying drink recipe! Freshly-squeezed lime juice, mouthwatering watermelon and fragrant mint come together for what is probably the most refreshing drink ever.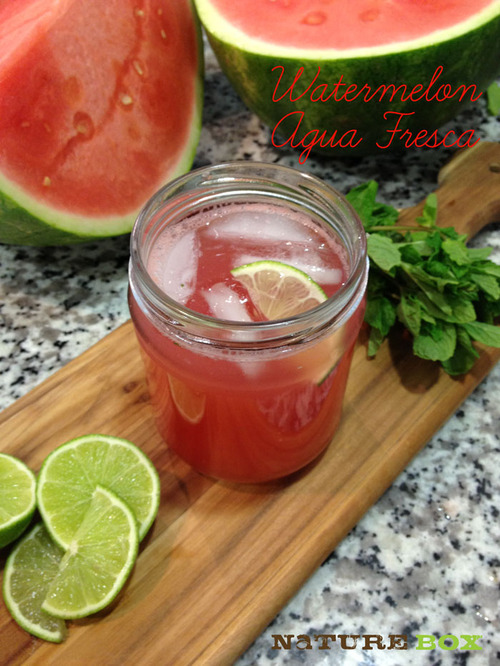 Serves:
10
Prep time: 25 minutes
Ingredients:
8 cups cubed seeded watermelon, (about 6 pounds with the rind)
About 8 sprigs fresh mint (1 small .66 ounce package)
Juice of 2 limes
2 cups water, or to taste
Lime slices, for garnish
Directions:
1. If using a juicer, juice the watermelon, mint and limes. Transfer to pitcher and add water. Serve over ice.
1. If using a blender, blend the watermelon and mint leaves in batches. Pour into a pitcher through a fine sieve or strainer. Add lime juice and stir in water. Serve over ice.
Still thirsty? Try more of our refreshing drink recipes!
Get more healthy ideas and delicious snacks like Chocolate Quinoa Granola by joining NatureBox. 
Amanda really wants to help you cook delicious foods and sustain a healthier lifestyle. When she's not goofing around on Twitter she's probably noshing on the pile of NatureBox snacks at her desk.