This surprising mix of juicy watermelon with fresh mint, crumbled feta cheese and a balsamic reduction is the perfect way to cool down in the summer heat!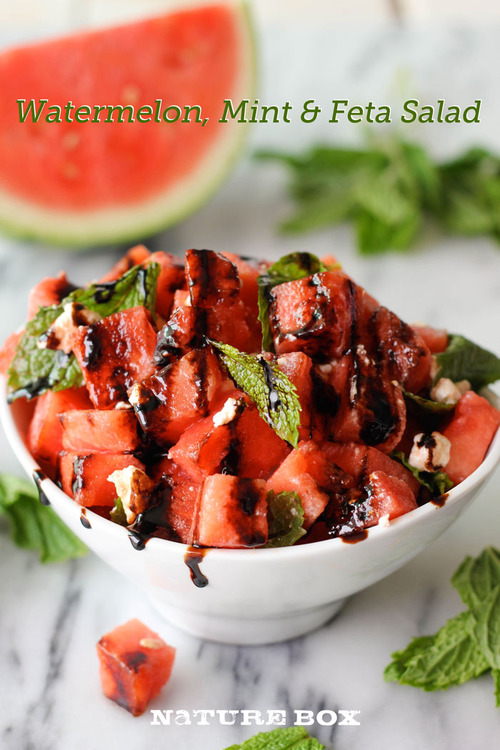 Serves: 4
Prep time: 15 minutes
Cook time: 4 minutes (for the balsamic reduction)
Ingredients:
1/4 cup balsamic vinegar
6 cups diced seedless watermelon
4 ounces crumbled feta cheese
1/4 cup mint leaves
2 tablespoons olive oil
Directions:
1. To make the balsamic reduction, add balsamic vinegar to a small saucepan over medium heat. Bring to a slight boil and reduce by half, about 4 minutes. Set aside to cool.
2. In a large bowl, combine watermelon, feta, mint leaves and olive oil. Drizzle balsamic reduction over the top and serve.
If you can't get enough of this refreshing, juicy fruit, try our other watermelon recipes!
Get more healthy ideas and delicious snacks by joining NatureBox. Enter coupon code NATURE for 25% off your first month subscription!
Chung-Ah, the author behind Damn Delicious, loves to take simple ingredients and transform them into sophisticated and elegant meals.