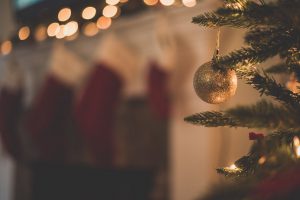 The holidays look a little different this year.
A 2016 Healthline survey found 62% of people describe their stress level as "very" or "somewhat" elevated during the holiday season. Add a pandemic, social unrest, and the presidential election into the mix? That's 2020 in a nutshell.
On top of that, workplace worry didn't go away. You have the added stress of changing up your entire life to now work from home and Zoom fatigue from a steady stream of video calls. You're likely also wondering if you'll get enough time off of work to truly relax and enjoy your break. 
If this is you, you're not alone. This year has taken a toll on everyone's mental health. Here are 5 wellness-inspired ways to take care of your mental health during the holidays.
1. Move your body outside
You might not be able to go to your favorite gym right now, but you can still get up and move around. The added benefit you get from being in nature makes it an extra special treat.
Do your best to not treat movement as a punishment for overindulging. Instead, find your joy through movement! This takes away the pressure to "work out." It's about moving your body to stay healthy and well, not to lose weight or look better.
If you can't muster the energy for a walk, simply stick your feet into the Earth in a healing modality known as grounding. Your cortisol levels stabilize, which brings your body back into balance. It's recommended for you to incorporate this as a daily practice.
2. Connect with your loved ones
Humans are social beings. A huge part of why the holiday season is so happy? We get to be around our loved ones. 
Since it won't be possible for many of us to celebrate with our friends and families this year, check in on those close to you. FaceTime a close family friend, set up a Zoom call with your cousins, or call your favorite aunt on Google Duo. Find creative ways to stay connected from afar this holiday season.
As we know from this year, virtual connection isn't the same as in-person, but it's close.
3. Snack mindfully 
A snack doesn't just solve an unconscious need, it also has functional benefits. Skip the fad diets and juice cleanses that hurt your self-esteem and negatively affect your mental health. Opt for mindful snacking instead.
Mindful snacking is an approach to eating with intention and attention. It's about being conscious of what you eat, why you're eating, and how it makes you feel. 
It's what NatureBox is all about: being present, snacking with a purpose, and changing the way people think about snacking. We believe snacks can help us balance our bodies and our lives.
It's possible to find brands who create products that contribute to better health and wellness for their customers. It's also possible that snacks can taste delicious and have clean, functional ingredients that support your mind and body.
Snack with a purpose this season.
4. Feel your feels by journaling
Journaling isn't just for writers. It's for anyone and everyone seeking clarity from all of the thoughts circling around in your head. By externalizing your thoughts and feelings, you tend to have less to "carry around" psychologically. It helps you gain control of your emotions, which makes it an excellent exercise for improving your mental health.
Unsure what kind of journaling to do? Gratitude journaling is the simplest way to reflect on what you're thankful for and what's good in your life. Especially in a year like this one, it's important to tap into what you do have rather than focus on what you don't.
The purpose of gratitude journaling isn't to minimize the challenges you're experiencing, but to help your brain refocus. Even if it's just for a moment.
5. Find your zen with meditation
Another mindfulness technique to refocus your brain? Meditation.
Meditation has the power to shift our perspective and increase our awareness without taking immediate action on each passing thought. It also results in beneficial changes to our mental and physical health, according to research from Coventry and Radboud Universities.
Give it a try with this guided meditation or this loving kindness meditation. This practice isn't an addition to your routine, it's simply pausing to be present with your thoughts, your body, and yourself.
Wellness is at the core of NatureBox's mission. Whether it's through mindful snacking on functional foods or connecting with your loved ones after months of being apart, we wish you a happy and healthy holiday season!