Who says salads can't make you feel full? In this super simple recipe, we cannellini beans make for a substantial ingredient and pairs well with peppery arugula and bright grape tomatoes.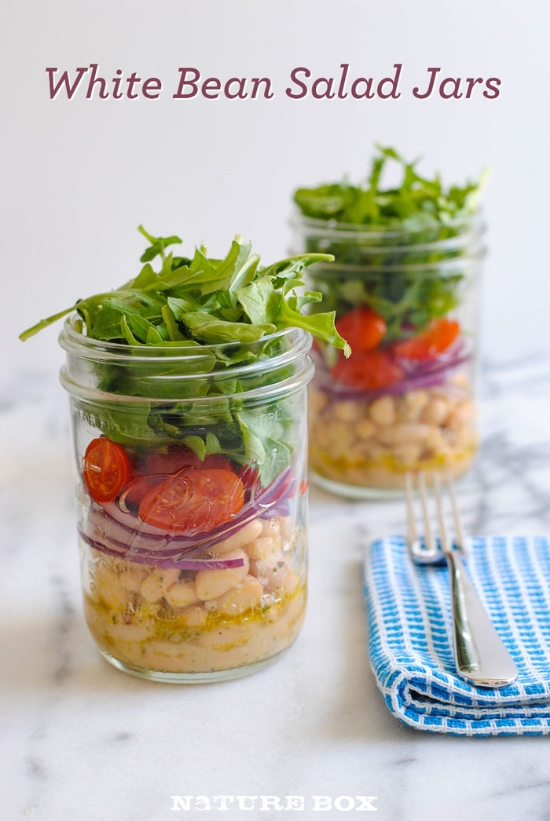 Makes: 4 jars
Prep time: 5 minutes
Ingredients:
Marinated White Bean Salad:
1 small garlic clove, minced
1 tablespoon white wine vinegar
1 teaspoon chopped fresh thyme
1/2 teaspoon grated lemon zest
1/4 teaspoon dry mustard powder
1/4 teaspoon kosher salt
1/8 teaspoon ground black pepper
1/8 teaspoon red pepper flakes
2 tablespoons extra virgin olive oil
1 can (19 ounces) cannellini beans, rinsed and drained
Salad Jars:
1/4 small red onion, thinly sliced
1/2 cup grape tomatoes, halved
4 cups packed arugula
Directions:
1. Make the Marinated White Bean Salad: In small bowl, whisk together garlic, vinegar, thyme, lemon zest, mustard powder, salt, black pepper and red pepper flakes. While whisking, slowly drizzle in oil until all oil is incorporated. Add beans and toss to combine.
2. Divide Marinated White Bean Salad equally among 4 pint-sized mason jars. Layer onion, tomatoes and arugula, ending with arugula. Top with lids and refrigerate up to 3 days. To serve, pour onto plate or bowl, stir and enjoy.
Want more? Try our other salad jar recipes!
Get more healthy ideas and delicious snacks by joining NatureBox.