We all need a go-to recipe that requires 5 minutes of prep work. Of course, we want it to be delicious and easy. But more than that, the ideal go-to is totally satisfying, and has a level of sophistication that makes your guests ooh and ahh. This dish is a whole head of cauliflower sauteed in brown butter and a pinch of garlic, and then garnished with our crunchy Roasted Garlic Pumpkin Seeds.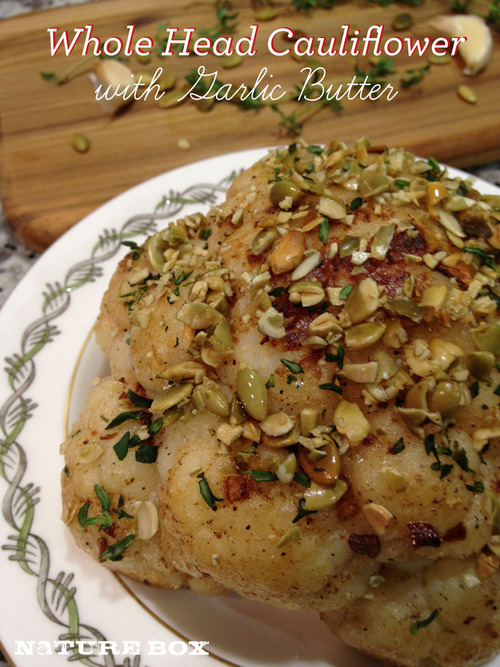 Serves: 4-6
Prep time: 5 minutes
Cook time: 15 minutes
Ingredients:
1 head cauliflower
Kosher salt
Freshly ground black pepper
3 tablespoons unsalted butter
1 garlic clove, minced
1/4 cup NatureBox Roasted Garlic Pumpkin Seeds, coarsely chopped
2 tablespoons fresh thyme, minced
Directions:
1. Bring a large pot of salted water to a boil. Add cauliflower head and let cook until slightly softened, about 5 minutes. Plunge into ice bath to stop the cooking process. Pat dry with paper towels then season with a few pinches of salt and pepper.
2. In a sauté pan over medium heat, melt butter until it smells slightly nutty, about 3 minutes. Stir in garlic. Add cauliflower, crown side down. While basting with butter, turn the cauliflower every 20-30 seconds until lightly browned all over, about 8-10 minutes. The turning process might look something like this: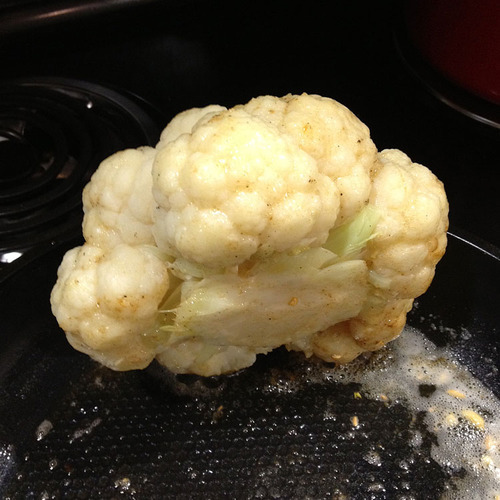 3. Serve on your favorite plate and garnish with Roasted Garlic Pumpkin Seeds and thyme.
Get more healthy ideas and delicious snacks by joining NatureBox. Enter coupon code NATURE for 25% off your first month subscription!
Amanda really wants to help you cook delicious foods and sustain a healthier lifestyle. When she's not goofing around on Twitter she's probably noshing on the pile of NatureBox snacks at her desk.