by Chung-Ah Rhee of Damn Delicious
With spring upon us, it's time to bring out the berries in these berry medley crumb bars. Made with old fashioned oats and whole wheat pastry flour, you can indulge this season, guilt-free, in all of its crumbly glory!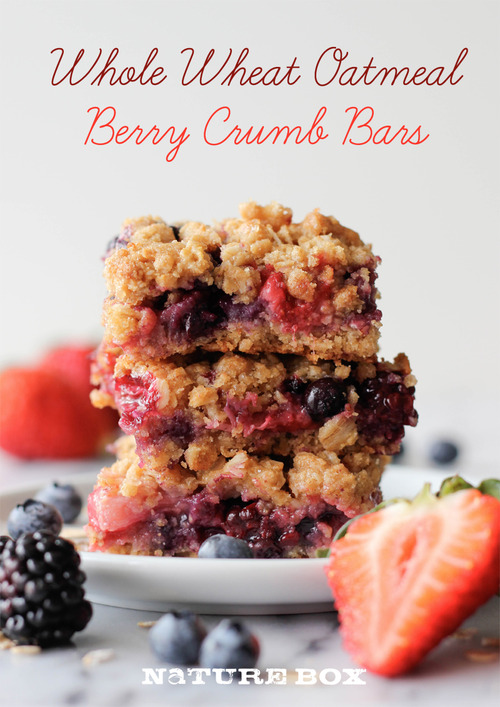 Serves: 9
Prep time: 10 minutes
Cook time: 25 minutes
Ingredients:
3/4 cup blueberries

3/4 cup blackberries

3/4 cup sliced strawberries

2 tablespoons sugar

2 teaspoons cornstarch

3/4 cup whole wheat pastry flour

3/4 cup old fashioned oats

1/2 cup brown sugar

1/2 teaspoon baking powder

Pinch of salt

1 large egg, beaten

1 teaspoon vanilla extract

1/2 cup (1 stick) unsalted butter, cut into cubes

1 tablespoon turbinado sugar
Directions:
1. Preheat oven to 375 degrees F. Lightly coat an 8 x 8 baking dish with nonstick spray.
2. In a small bowl, combine berries, sugar and cornstarch. Set aside.
3. In a large bowl, combine flour, oats, brown sugar, baking powder and salt. Add egg, vanilla and cold butter, using your fingers to work the butter into the dry ingredients until it resembles coarse crumbs.
4. Spread 2/3 of the batter into the prepared baking dish. Spread berry mixture evenly over the bottom layer. Sprinkle with remaining 1/3 of the batter and turbinado sugar.
5. Place into oven and bake until golden brown, about 25-30 minutes. Let cool slightly before cutting into bars.
Get more healthy ideas and delicious snacks by joining NatureBox. Enter coupon code NATURE for 25% off your first month subscription!
Chung-Ah, the author behind Damn Delicious, loves to take simple ingredients and transform them into sophisticated and elegant meals.