by Tsz Chan of Gastrophoria
Bread pudding is one of those dishes that's just so inviting. There's nothing quite like walking into one's home and taking in a whiff of that sweet, warm air. If you're looking for a comforting treat or easy, rewarding baking experiment, look no further! This Wild Berry Bunch Bread Pudding can be served warm or room temperature and it yields enough to share with friends or the whole family.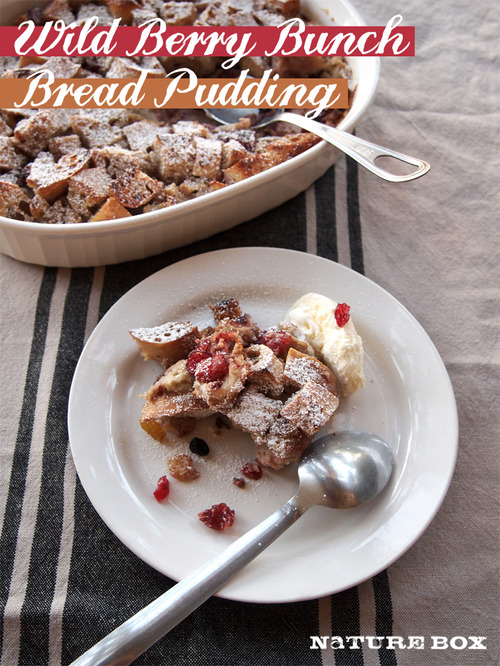 Serves: 6 
Cook time: 30 minutes
Ingredients
1-1/2 cups half-and-half

3 tbs of your favorite berry jam

1/2 cup sugar

2 eggs

1 tsp vanilla

2 big pinches of freshly ground black pepper

Pinch of salt

1/2 day-old baguette, cut into 3/4 inch cubes (about 5 cups) 

Powdered sugar (optional, for serving)

Greek yogurt or your choice ice cream (optional, for serving)
Directions:
1. Preheat oven to 325 degrees F. Whisk together 3/4 cups of Wild Berry Bunch, half-and-half, jam, sugar, eggs and vanilla in a big mixing bowl. Then add in the black pepper and salt. Trust me on this! The black pepper and salt serves to moderate the sweetness of the mixture but won't make the pudding salty or peppery. 
2. Add in the bread cubes and let soak for 5 minutes. Spoon the bread pudding mixture in a shallow oven proof dish and bake until cooked through and golden brown, around 30 minutes. Sprinkle with powdered sugar. 
3. Divvy up the warm bread pudding with a group of hungry friends and top with a scoop of Greek yogurt or ice cream and garnish with Wild Berry Bunch. Enjoy while fresh!
Get more healthy ideas and delicious snacks by joining NatureBox. Enter coupon code NATURE for 25% off your first month subscription!
A devout student of flavor, Tsz documents her food adventures at Gastrophoria. In the rare moments she's not planning her next meal, she grows businesses through unique design solutions.