This salad combines the sweetest and juiciest winter citruses making for an absolutely refreshing dish! Serve it as a side or as an entree by adding a protein like chicken, shrimp or chickpeas. Either way, you're in for a delightful treat!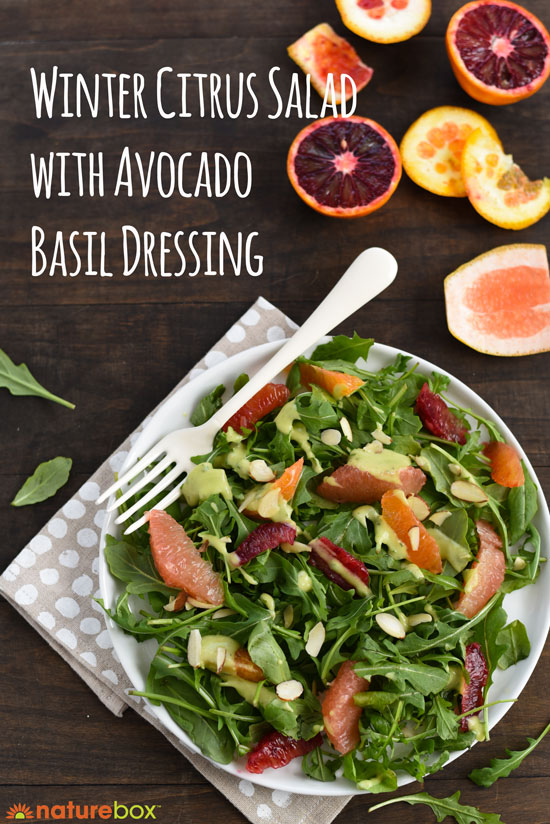 Serves: 4
Prep Time: 20 minutes
Ingredients:
1 avocado, peeled and pitted
2 tablespoons roughly chopped fresh basil leaves
2 tablespoons extra virgin olive oil
1 tablespoon white wine vinegar
4 to 6 tablespoons water
Pinch of kosher salt and ground black pepper
4 cups packed arugula
2 blood oranges, peeled and segmented
1 Cara Cara orange, peeled and segmented
1 grapefruit, peeled and segmented
1/4 cup sliced almonds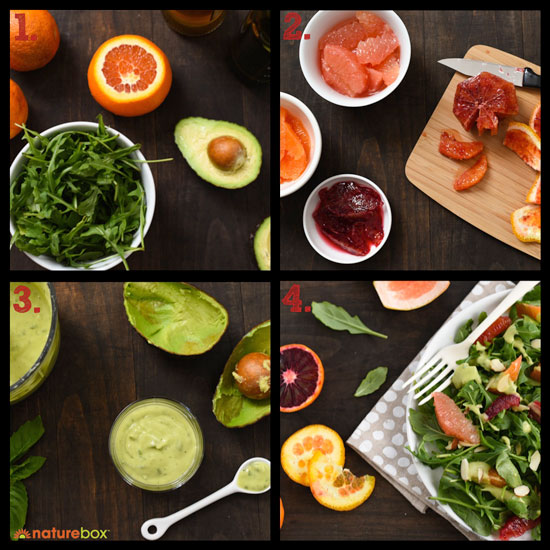 Directions:
1. In mini food processor or blender, blend avocado, basil, oil, vinegar, water, salt and pepper until smooth. Depending on the size of your avocado, you may need more or less water to achieve a salad dressing consistency.
2. Divide arugula between 4 salad plates. Divide citrus segments over arugula and sprinkle with almonds. Serve with dressing.
Get more healthy ideas and delicious snacks by joining NatureBox. Sign up today to kick off your membership with a free trial!
Lori Yates is a Detroit-area food writer and recipe developer. She is the author of Foxes Love Lemons, where she posts special yet simple original recipes, tips from her culinary school adventures and restaurant reviews. Her mission is to encourage people to enjoy the act of cooking at home. You can follow her on Facebook and Twitter @foxeslovelemons.