---
NatureBox Wellness Challenge Rules
Share with us some of the ways you've been staying healthy and 'well' during this time. 
To enter the contest, you must post a photo that shows how you've been staying healthy and 'well' during this time. This can look like a lot of different things, from short walks outside and virtual workouts, to at-home spa days and video calls with friends and family. Show us how you are staying well!
You must tag NatureBox and using the hashtag #NatureBoxWellnessChallenge.
2 winners will receive a large box of specially curated wellness snacks, a $50 value!
Rules/Guidelines:

Contest for U.S. residents only. 

Must be 18 years or older to enter.
Giveaway closes on May 23, 2020, at noon PST.
Winners announced May 26, 2020.
---
A note from our CEO.
As the CEO of Naturebox, I was skeptical we could keep our company culture engaged while forced to work from home.  What we found is that we are even more engaged than ever before, but it was not by accident.  
When it became clear we were sending our team home for a while, our executive staff had a meeting to discuss how we would operate differently.  We decided to use Zoom and lengthen our Daily Standup from 15 minutes to 45 minutes.  Cameras on!  We decided to do a myriad of things, but by far the thing that was most effective was our Wellness Challenge cooked up by our culture team.   
A month ago, we announced our internal Wellness Challenge.  Below is a write up on how it works.  It was so successful that we created round two and the team loves it.  Slack postings on the Wellness channel are prolific.  We are all getting a glimpse into everyone's new stay-at-home new normal.
In trying to help my wellness teammates stay on top of the leaderboard, I have personally exercised more in the last month than in the last 5.  I even planted a new herb garden to boot!  It's great when the team wins and we win personally in our lives.  This is the definition of wellness. 
Grab the Wellness Challenge Worksheet and use it with your teams!  Be creative and see how it works. 
Best,
John Occhipinti
NatureBox Wellness Challenge
With all of Naturebox working from home due to COVID, we've had to explore new ways to support one another. In order to foster a remote connection and a healthy spirit of competition, we decided to introduce an employee Wellness Program!
We divided into teams and collaborated on a list of daily activities designed to unite each team in a shared wellness ethos while keeping "Nomsters" active, healthy, and connected to each other and our communities. We earn points by eating lunch away from our desk, taking a walk around the block, and supporting a local small business. Bonus points are awarded for sharing photo evidence in a designated Slack channel. The challenge is precisely what we needed while in forced isolation. It fostered togetherness, teamwork, healthy behaviors, and fun – filling a cultural void we usually get naturally in the Naturebox office. 
My team worked so well together and we came so close to clinching the title!
This is what my personal tab looked like – think star chart meets habit tracker: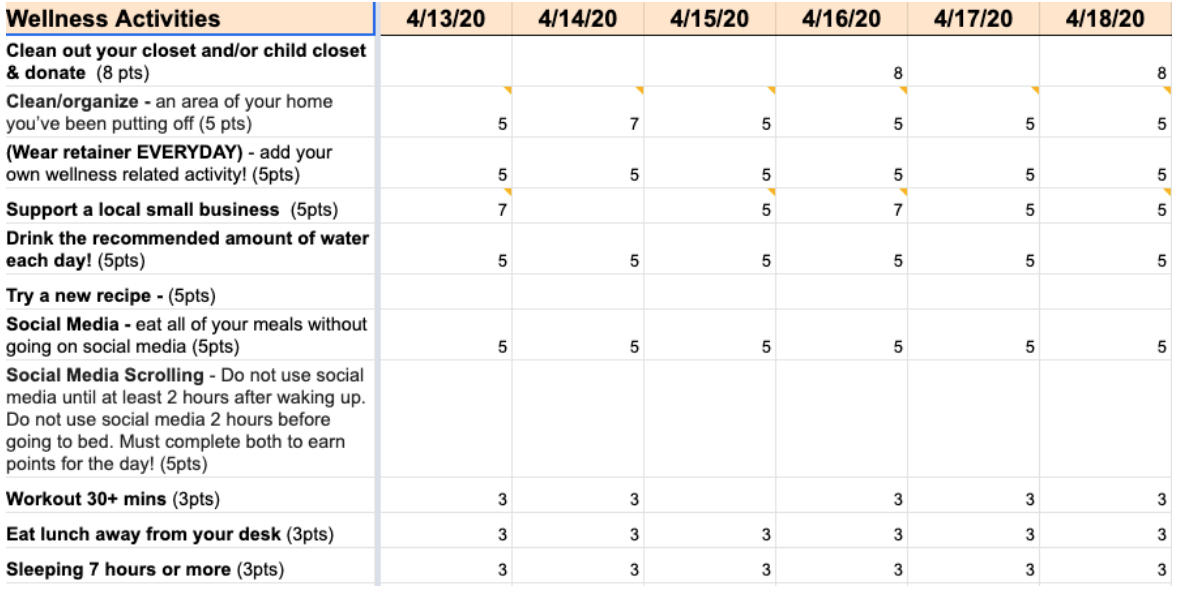 Can virtual happy hours and zoom meetings replace in-person team lunches, walking one-on-ones, or midday pick-me-up trips to Philz Coffee? Of course not, but company-wide events like Naturebox's Wellness Challenge fosters a culture of communication, collaboration, and inclusion all of which are vital for boosting morale and camaraderie during a time of uncertainty and fear. This connection to one another helps stave off the negative behaviors associated with isolation. It drives unity reminding us that our company culture extends beyond the office and beyond ourselves. It reminds us that we are all in this together.
If you are interested in running your own wellness program, you can grab our Wellness Challenge Worksheet and get started.
Competition is always a driver. 
Here are some picture examples of our Slack channel!