Have some extra zucchini in the fridge? These baked zucchini fries are the perfect way to use them up without too much grease since they're oven-baked to crisp perfection. Plus, the garlic chipotle aioli serves as the perfect dipping sauce for these – making them to be a fun savory snack or light appetizer right before dinner.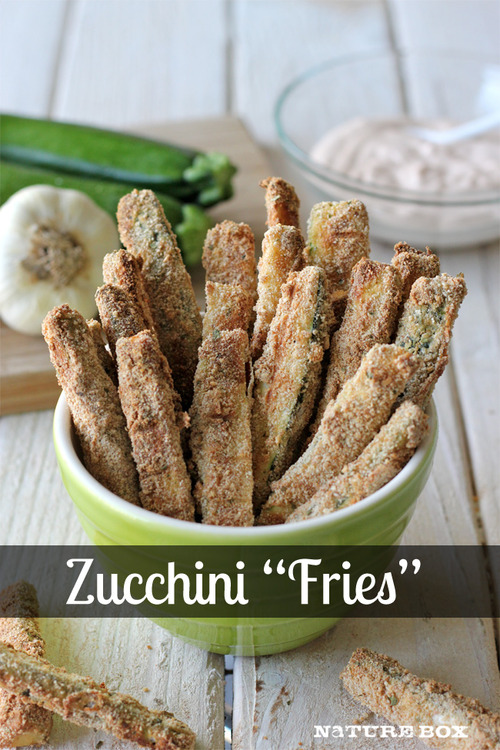 Serves: 2
Prep time: 15 minutes
Cook time: 18 minutes
Ingredients:
2 zucchinis, cut into 4-inch sticks
1/3 cup all-purpose flour
2 large eggs, beaten
1 cup Italian-style bread crumbs
For the chipotle garlic aioli:
2 teaspoons chipotle peppers in adobo sauce
1/4 cup light mayonnaise
1/4 cup Greek yogurt
2 cloves garlic, pressed
Directions:
1. Preheat oven to 400 degrees F. Coat a cooling rack with nonstick spray and place on baking sheet. Set aside.
2. Working one at a time, dredge zucchini in flour, dip into eggs, then dredge in bread crumbs, pressing to coat. Place on prepared baking sheet and bake until golden brown, about 15-18 minutes.
3. While the zucchini is baking, make the aioli: combine chipotle peppers, mayonnaise, Greek yogurt and garlic in a small bowl. Set aside.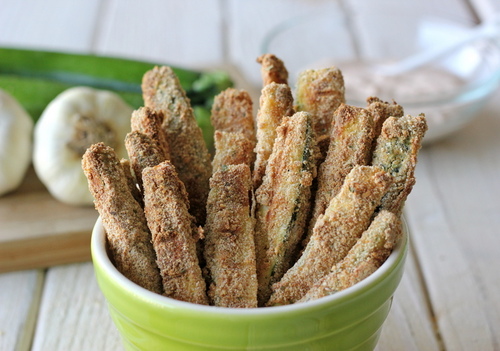 Want dessert? Try our grilled banana boats with Chocolate Quinoa Granola!
Get more healthy ideas and delicious snacks by joining NatureBox. Sign up today to get $10 off your first box!